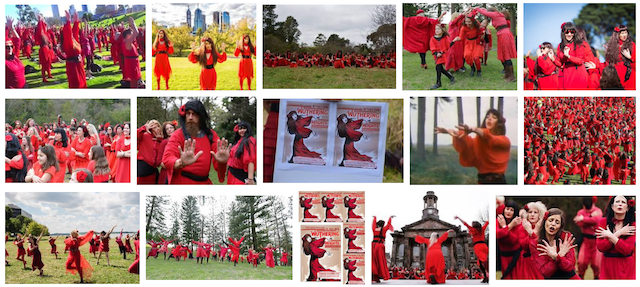 It's back! The Most Wuthering Heights Day Ever – after thousands around the world took part last year, 2017 sees even more events planned for this breezy moment of Kate-inspired outdoor fun.
The inspiration for the event began when in 2013 UK performance artists Shambush!' took their wuthering flash mob act to greater heights in The Ultimate Kate Bush Experience, gathering 300 Kate Bush impersonators and turned a pleasant Sussex park into wily, windy moors filled with Cathy's performing the iconic Wuthering Heights choreography.
The viral success of their YouTube video has started a movement and in 2016 many sister events called The Most Wuthering Heights Day Ever, coined by Berlin organiser and musician Sam Wareing, started being created all over Facebook.
Here is the full list with event links (with thanks to The Morning Fog Facebook page for compiling them!)
Berlin, Germany: http://bit.ly/2rjRj5c
Dublin, Ireland: http://bit.ly/2r7ZTVn
Oslo, Norway:http://bit.ly/2sqXCbH
Rotterdam, Netherlands:http://bit.ly/2t9jRzP
Uppsala, Sweden: http://bit.ly/2sRfQkm
Atlanta, United States: http://bit.ly/2sbp9h7
Madison, United States: https://www.facebook.com/events/1409657799127261/
Portland, United States: https://www.facebook.com/events/779047658943122??ti=ia New England, United States: https://www.facebook.com/groups/1657184614532764/
Australian Events:
Adelaide: https://www.facebook.com/events/206547643180579/?hc_location=ufi
Bendigo: http://bit.ly/2rZppO8
Blue Mountains: http://bit.ly/2sr49Dw
Brisbane: http://bit.ly/2shdzSj
Canberra: https://www.facebook.com/events/119786128585581
Gold Coast: http://bit.ly/2rfbAOj
Hobart: http://bit.ly/2rfp1xB
Melbourne: http://bit.ly/2sgYWyl
Newcastle: http://bit.ly/2rjTA0b
New South Wales: https://www.facebook.com/events/496907867326910/?ti=icl
North Lismore: http://bit.ly/2rZMAaN
Sydney: http://bit.ly/2sr3Qb
If you have an event to add to this list, please email sean@katebushnews.com