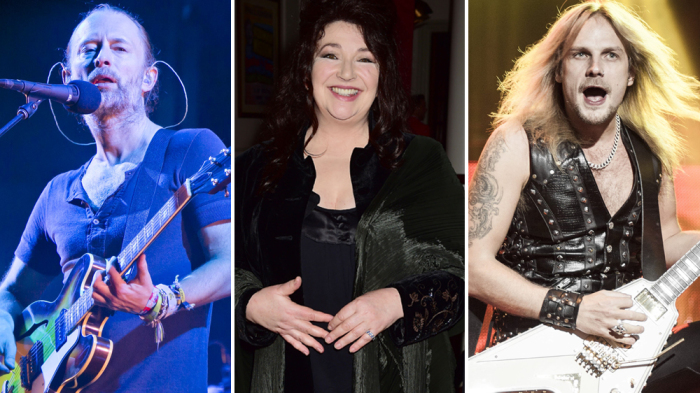 *** VOTE FOR KATE HERE: https://www.rockhall.com/fan-vote/2018-fan-vote ***
From Variety: "The Rock and Roll Hall of Fame announced the 19 nominees for its 2018 class this morning, nine of which are receiving first-time nods. Artists become eligible for nomination 25 years after the release of their first recording and are selected for the shortlist by a nominating committee. Usually only about 5 inductees are announced each December. The Hall of Fame site says:
"Kate Bush gave popular music a new palette of techniques, crafting unorthodox performances that are part sonic experiment, part theatre. Bush draws us into the world of her imagination through complex arrangements, striking visual presentations and inventive use of technology."
The complete LONG list (with first-timers noted with an asterisk) is:
Bon Jovi
Kate Bush*
The Cars
Depeche Mode
Dire Straits*
Eurythmics*
J. Geils Band
Judas Priest*
LL Cool J
The MC5
The Meters
Moody Blues*
Radiohead*
Rage Against the Machine*
Rufus featuring Chaka Khan
Nina Simone*
Sister Rosetta Tharpe*
Link Wray
The Zombies
You can read the page dedicated to Kate here.
According to a press release, the Hall will again offer fans the opportunity to officially participate in the induction selection process. Beginning Oct. 5 and continuing through 11:59 p.m. EST on Dec. 5, 2017, fans can visit rockhall.com/vote to cast votes for the artists they believe to be most deserving of induction. The top five artists, as selected by the public, will comprise a "fans' ballot" that will be tallied along with the other ballots to choose the 2018 inductees. Fans will need to login with a Facebook account or email to vote. Voting is capped at one ballot per day.
Ballots will be sent to an international voting body of more than 900 artists, historians and members of the music industry. Factors such as an artist's musical influence on other artists, length and depth of career and the body of work, innovation and superiority in style and technique are taken into consideration.
The Hall's 2017 inductees were Joan Baez, ELO, Journey, Pearl Jam, Tupac Shakur and Yes, with an Award for Musical Excellence for Nile Rodgers (whose band, Chic, has been passed over for induction multiple times).
The Rock & Roll Hall of Fame 2018 Inductees will be announced in December 2017, and the ceremony will be held at Public Auditorium in Cleveland on April 14, 2018. HBO will once again broadcast the ceremony. Broadcast details and ticket information will be announced at a later date."
*** VOTE FOR KATE HERE: https://www.rockhall.com/fan-vote/2018-fan-vote ***