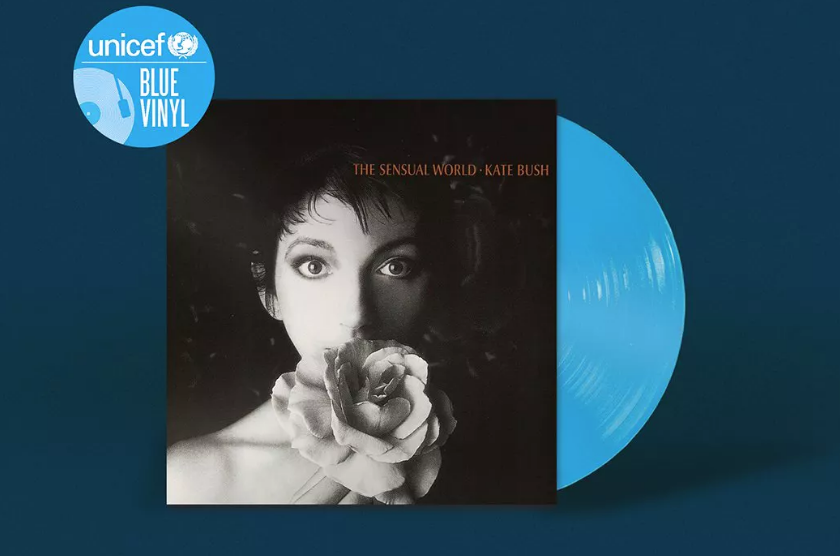 Kate, David Bowie, Nick Cave, Bob Marley, Alicia Keys and more are some of the artists taking part in a new UNICEF vinyl project. The charity will steer a special re-issue campaign, featuring albums by a variety of influential artists. The project will feature limited runs of just 50 copies pressed on blue vinyl.
Each record will be adorned with an edition sticker as well as a holographic Unicef Blue Vinyl sticker on the front of album, with fans able to enter a prize draw (raffle) to win one of the albums. There's no limit on entries, but each entry costs £5 and for every ten tickets bought by one person a free ticket is issued. The limited runs will be numbered, with super fans and collectors able to bid in an auction for No. 1 of each album. Prize Draw closes on Dec 10th.
***Buy Prize Draw tickets for one of 50 copies of Kate's The Sensual World on blue vinyl HERE***
All proceeds from Unicef Blue Vinyl will go to Unicef UK's Children's Emergency Fund, a project that helps Unicef support children in danger during conflict or disaster situations.
Unicef UK CEO Mike Penrose commented: "We are so proud and excited to release this incredibly special collection of albums for Unicef's Blue Vinyl, collaborating with some of the world's best music talent to support children around the world. Today, we're facing humanitarian crises on a scale we've not seen before, and Unicef's work is more crucial than ever. Blue Vinyl is a great way for music fans to not only own a unique piece of musical history, but also to help raise vital funds to support Unicef's essential work for children."
The full list of albums is as follows:
David Bowie – The Next Day
Bring Me The Horizon – That's The Spirit
Kate Bush – The Sensual World
King Crimson – In the Court of the Crimson King
Nick Cave And The Bad Seeds – Skeleton Tree
Coldplay – A Head Full Of Dreams
The Jimi Hendrix Experience – Axis: Bold As Love
Kasabian – For Crying Out Loud
Alicia Keys – Songs In A Minor
Bob Marley And The Wailers – Catch A Fire
Novelist – Novelist Guy
Ozzy Osbourne – Diary Of A Madman
Spice Girls – Spice
Paul Weller – A Kind Revolution
Robbie Williams – Take The Crown
Amy Winehouse – Back To Black