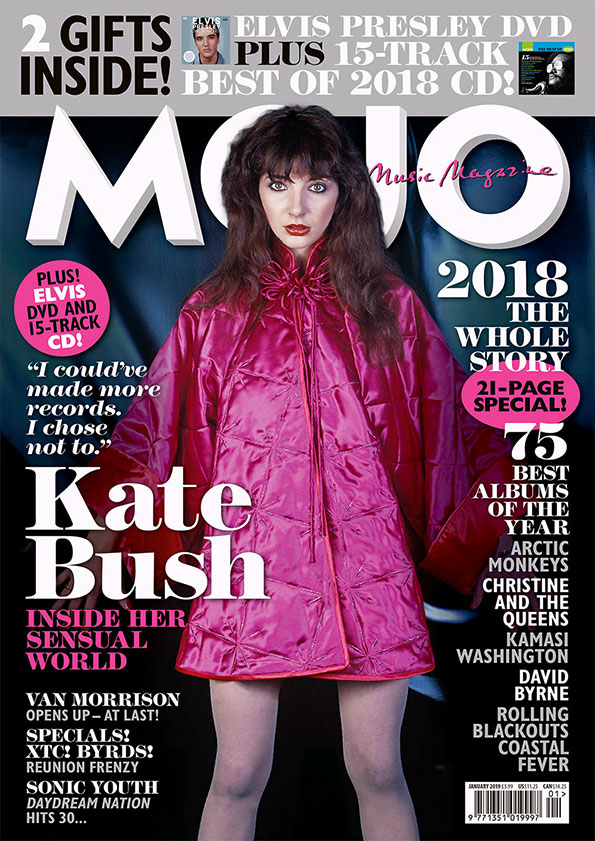 With all the buzz surrounding Kate Bush – Remastered it's little wonder that Mojo Magazine have yet again featured Kate on the cover of their new issue, out next Tuesday (an outer plastic bag cover which contains a best of 2018 CD and Elvis DVD is shown above – see inner magazine cover below). This issue includes a full review of the Remastered box sets. From the Mojo site:
"SENSUAL, SECRETIVE, OBSESSIVE: the story of Kate Bush: Recording Artist is a rich and dramatic quest for control and possession of her art – one which her raft of newly remastered albums underlines with an unmistakeably personal touch. In new material from interviews with Tom Doyle, Bush relives the highs and lows of her hunt for perfection in the latest MOJO magazine, in UK shops from Tuesday, November 20, and available to buy online now.
"It would've been nice if some of the stuff I did wasn't always so hard," she told Doyle as she discussed all her greatest moments in depth. Above all, it's the story of Bush's increasingly specific sonic visions and the initiative she took in bringing them to life.
"I think music is very visual," she said. "On Never For Ever, there was quite a bit of that… trying to imagine being there. It's that thing of being in this place, isn't it? That you're talking about or singing about. So, then you're trying to create what it looks like and who's there." Included in our Kate Bush coverage: a full review of the new remastered box sets, plus Ian Rankin on her lyrics, which are published in book form by Faber & Faber on December 6." 
Note: The plastic bag cover in the image above contains a CD and DVD. The magazine inside the package has this cover: