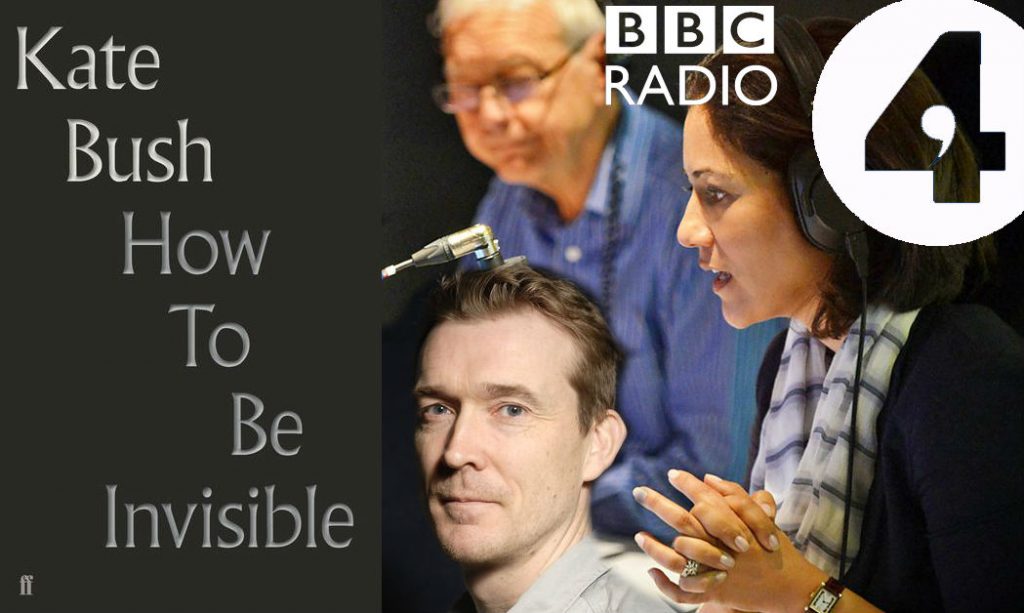 On the Today programme this morning on BBC Radio 4, author David Mitchell talks to Rebecca Jones about Kate's book of lyrics, How To Be Invisible, for which he wrote the introduction. David previously worked with Kate on dialogue for scenes in her Before the Dawn shows. David has previously written about his love of Kate's work in The Guardian here. Listen to the interview with David at time mark 2:22:37 into this audio stream here.
"I'm just really, really glad that this woman exists, I'm so glad she's made the music she has done. It's like a constellation in the sky for me, it fills me with wonder. As I've evolved her songs have a quality – they evolve as well. I often sort of think of them as companions who walk with me through life."
She is notoriously private. What can we learn about Kate Bush through her lyrics?
"She is a "word nerd"…the kooky, quirky, quixotic use of language. She's not afraid of the darker places of the human psyche. That gives her work power that most songs don't even aspire to.
How did you first come across her? 
"Well, I first encountered Kate Bush like many people of my generation in 1978 on Top of the Pops when the video for Wuthering Heights appeared…(laughing) it was like nothing we'd ever seen before. I remember the next day I went to school and all the girls in the class were playing being "Kate Bush", doing that dance around the playground which certainly burnt that song into my memory…and it's still there."
On Kate's influence on his own writing: "She had an album in 1982 called The Dreaming which was artistically experimental, and it is a risk-encourager, you can't listen to it without thinking, well, if it worked for her, maybe it will work for me as well. I listened to that album over and over and over when I was writing my first two novels. It's a sort of friendly artistic muse on your ear saying: "yeah go on, have a go, try it, see if it works"
It was while he was working on his new novel that the request came from Kate Bush to write the introduction to her new book. We're often advised not to meet our heroes, because they might be disappointing, what was it like for you then?  
"She's not at all disappointing; she's like her songs, she has a deep mind, the size of a planet, it's full of interesting thoughts and images and combinations of words that you haven't really met before, and just a very warm human being as well."
Is there any hint that she's working on new music? David, amused (and cautious!) says: "I'm not allowed to say, I'm SO not allowed to say…I can neither confirm nor deny so I'll just have to lapse into enigmatic silence I'm afraid!" David concludes the interview, summing up Kate's influence: "People will still be listening to these songs with amazement in two, three hundred years time. I think this work will last in the same way that metaphysical poetry from the Elizabethan era has lasted. I know that's a huge claim to be making, but if I were to to make it about anyone, then Kate Bush would be in that very small circle of artists."
You can buy Kate's book (with exclusive bookmark), and also How To Be Invisible t-shirts and tote bags along with lots of other items, AND enter a raffle for a signed copy at the Kate Bush Remastered Pop Up in Coal Drops Yard, London, which is still open every day until Sunday December 9th at 8pm, all profits to the Crisis homelessness charity. More info here.