As well as appearing on this morning's Today programme on BBC Radio 4 (see our earlier news item with transcript here), novelist David Mitchell writes a lengthy and quite brilliant piece in today's Guardian. For him, she has produced four album masterpieces in her career – guess which ones? Read the full article here. Here's an excerpt in which he discusses what it means to be a fan of Kate's work: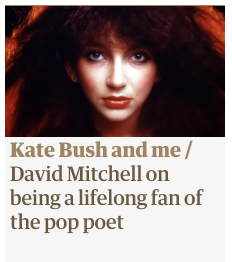 "I've been a fan of Kate Bush for nearly 40 years. Being a fan, like being in love, is giddying, it's as personal as skin, it connects you with others in a particular way, and it sets you up for a fall. Being a fan puts you on one-way first name terms with the object of your fan-ness, even if he, she, they or "Kate" don't know you exist – as is almost always the case. Over time, the "fan state" may change in expression but not in essence. "Fan" as a label is a slur on your critical objectivity and even your maturity, but if you weren't a fan of something or someone, wouldn't life be a little bland?
You don't learn much about Kate Bush from her songs. She's fond of masks and costumes – lyrically and literally – and of yarns, fabulations and atypical narrative viewpoints. Yet, these fiercely singular pieces, which nobody else could have authored, are also maps of the heart, the psyche, the imagination. In other words, art."
"Fans want more of what we loved the first time, yet we complain if things feel repetitive. Kate is a mighty exception to all this, as rare as a yeti. Her fidelity to her ever-curious, ever-morphing muse has won her a body of fans who hold her songs as treasured possessions to be carried through life. By dint of never having been in fashion, she has never fallen out of fashion. By taking bold artistic risks that she navigates with ingenuity and wisely chosen collaborators, the albums Kate made in her late 40s and 50s equal and surpass the songs recorded in her teens and 20s that made her famous. To any artist in any field, her example is a hope-instilling exhortation to evolve, to reinvent, to reimagine what we do."
You can buy Kate's book (with exclusive bookmark), and also How To Be Invisible t-shirts and tote bags along with lots of other items, AND enter a raffle for a signed copy at the Kate Bush Remastered Pop Up in Coal Drops Yard, London, which is still open every day until Sunday December 9th at 8pm, all profits to the Crisis homelessness charity. More info here.