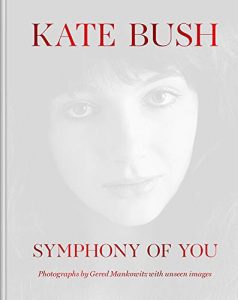 UPDATE: This book seems to have been delayed till September 2020, according to the Amazon listing.
Following on from the recent publication of his massive book of Kate photographs, Wow, photographer Gered Mankowitz is releasing an altogether more affordable collection of his iconic photos of Kate in September 2019. You can pre-order it here.
From the blurb: "Symphony of You is a complete celebration of Kate Bush – her music, her look, her impact, her creativity. Showcasing hundreds of Gered Mankowitz's breathtaking photographs from the early years of Kate's career, the majority of the images in this book have never been seen outside of the author's own private works. The book also features essays from authors across a number of disciplines – from best-selling novelists and award-winning musicians to academics – offering their opinions on how Kate has shaped the cultural landscape. Symphony of You is a truly special collection, and a homage to a unique artist."
Also in the works is a new book by photographer Max Browne, no publishing date yet. He took some great photos of Kate on her 1979 tour – see examples at his site here.