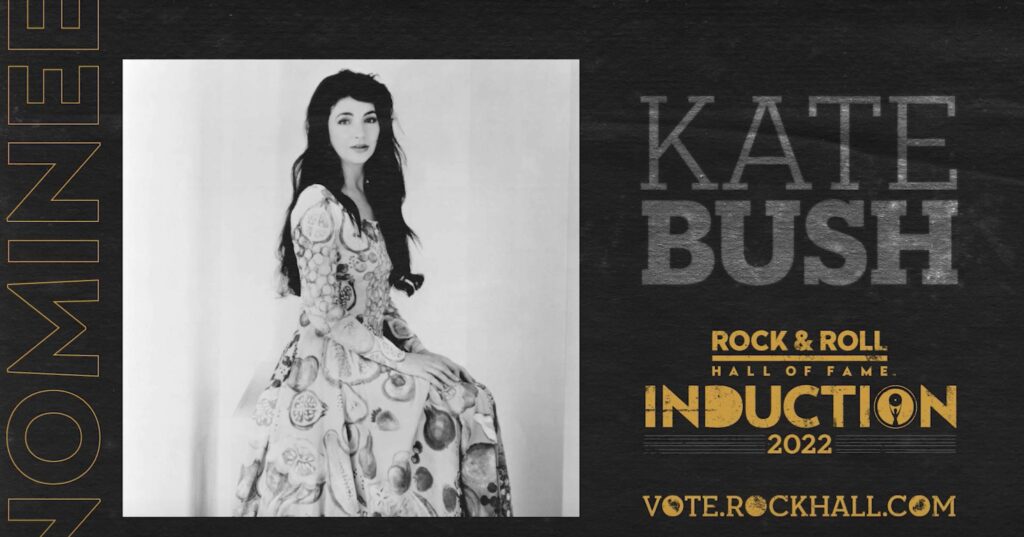 The Rock & Roll Hall Of Fame in the USA has revealed its nominees for the Class of 2022, including, once again, Kate Bush. As we know there's a fan vote (which has a slight impact) and we also know it seems very much dependant on a USA-centric vote situation and our guess is it seems unlikely Kate will be inducted if she decides not to attend the actual ceremony.
A body of more than 1,000 artists, industry members and historians will help decide which five acts out of the 17 will progress into the final round of induction consideration. Fans also have the chance to contribute to the selection process by voting every day here or at the museum in Cleveland, Ohio here. The Rock Hall's rule is that an act must have released their first commercial recording 25 years earlier than the year of the nomination.
Five acts will then be tallied among the other ballots to ultimately decide the Class of 2022. You can visit vote.rockhall.com to cast a ballot daily. Fans will need to login to vote. Voting is capped at one ballot per day.
Kate's nomination has been summarised as follows: "Her radical experimentation with lush soundscapes, literary themes, sampling, and theatricality have inspired everyone from Johnny Rotten to Björk to Big Boi." Nominees in 2022 (asterisk indicates first time nominees) are as follows:
Beck*
Pat Benatar
Kate Bush
DEVO
Duran Duran*
Eminem*
Eurythmics
Judas Priest
Fela Kuti
MC5
New York Dolls
Dolly Parton*
Rage Against the Machine
Lionel Richie*
Carly Simon*
A Tribe Called Quest*
Dionne Warwick