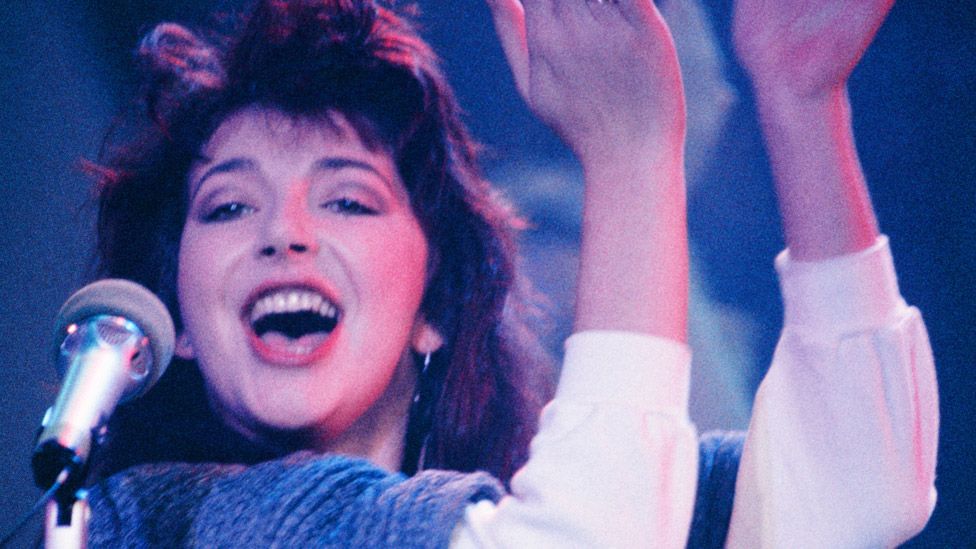 Running Up That Hill (A Deal With God) is now nothing short of a global hit single phenomenon and we have the chart update bullet points for you to prove it this evening!
UK: Kate has climbed to #2 in the official UK Top 4o Singles Chart, beating her previous best chart placing with the same song in 1985 when it reached #3. Only Wuthering Heights placed higher for her in the UK chart at #1 in 1978. Kate's compilation album, The Whole Story, has climbed to Number 19 in the UK albums chart.
Australia: Kate has climbed to #1 (!!!) on the ARIA Australian Singles Chart with 'Running Up That Hill (A Deal With God)'. It is her second Australian No.1 single after Wuthering Heights reached the top for three weeks in 1978.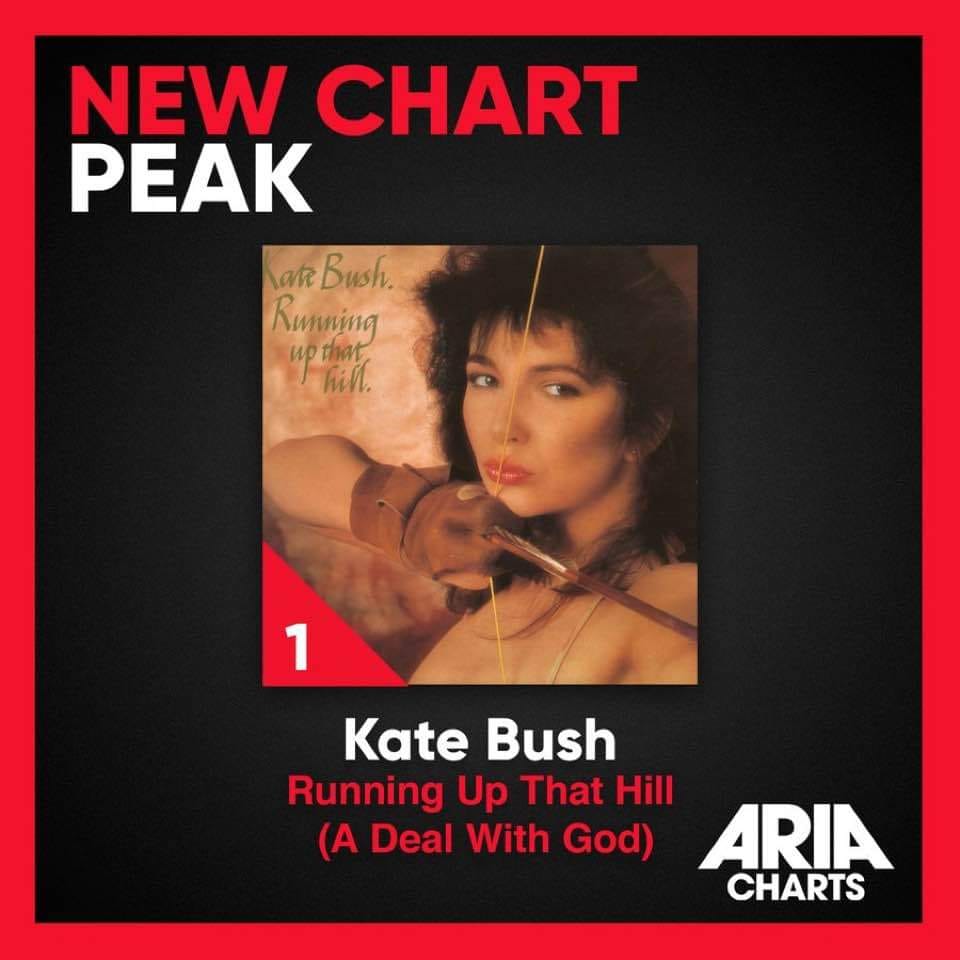 Ireland: Kate has climbed to #3 in the Irish Singles Chart with Running Up That Hill (A Deal With God)! This beats her previous Irish chart placing with this song in 1985 when she reached number 4. It now matches The Man With The Child In His Eyes as her second highest placed Irish single ever!
New Zealand: Kate is No.1 in New Zealand! This is Kate's second Number 1 in the country after Wuthering Heights in 1978.
Germany: Kate has climbed 10 places to number 4 on the German Singles charts, almost matching her chart peak with the same song in 1985 when she reached number 3, which was her highest ever German singles chart placing to date.
The Netherlands: Kate has climbed to #3 in the Dutch singles charts! It is now tied with Wuthering Heights in 1978 as her highest ever Dutch single chart placing!
Lithuania: Kate has climbed to the number ONE spot on the Lithuanian singles chart today!
Sweden: Kate is Number 1 on the Swedish singles chart!!
Switzerland: Kate is Number 1 on the Swiss singles chart!!
USA/Canada and more: As we reported earlier this week Kate had her highest ever entry in the Billboard Hot 100 singles chart this week at 8 and entered the Canadian chart at number 4. On the Billboard Global 200 Chart Kate is the highest new entry this week at number 3.
And let's take a look at those streaming/download charts: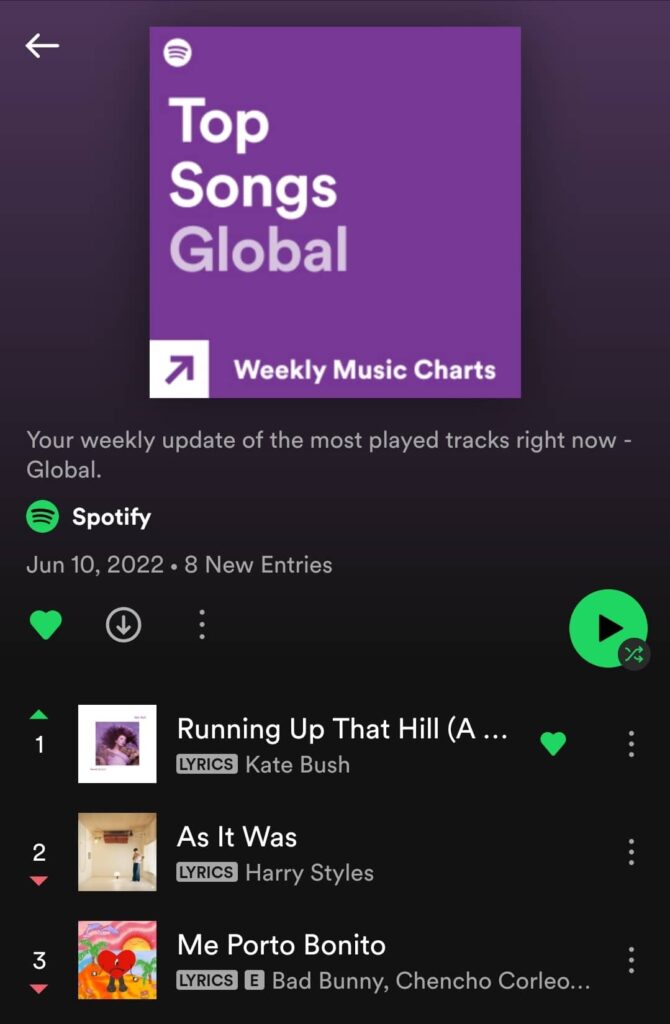 Spotify: As you can see above, today Kate has climbed to Number 1 in the Spotify Weekly Global music chart, a week that has seen Running Up That Hill (A Deal With God) dominate the world's largest music streaming service. As of today, Friday, she is having her fourth day on top of the Daily Global Chart, but this weekly one cements that jaw-dropping success. Kate has been getting over 8,000,000 streams of the song each day. We can now confirm that she is Number 1 on the Spotify weekly charts in Ireland, Australia, Belgium, Canada, New Zealand, Saudi Arabia, Switzerland, UK and the USA and Top 5 in many more.
iTunes: Kate remains number 1 on iTunes in Ireland, Australia, Canada, France, New Zealand, Poland – with the release of a new album by BTS saw tracks by the very popular Korean boy band leaping to the top of many iTunes charts.
Shazam: Running Up That Hill (A Deal With God) remains the number 1 most searched for song on the Shazam worldwide.
UK Chart Analysis: A very interesting (and chart geeky!) note about her UK placing at number 2 this week. Writing in Music Week, Alan Jones mentions the impact on Kate's UK chart placing of a relatively new rule in the UK charts called the ACR or "Accelerated Chart Ratio" designed to keep the chart fresh. He writes: "Despite its continuing presence at the top of the chart, As It Was wasn't No.1 on digital downloads or streams this week, trailing some distance behind Kate Bush's resurgent Running Up That Hill on both metrics. In fact, the only measurement on which As It Was was more popular was CD sales, where its one trumps Bush's zero – and yet, there it sits, No.1 again. Back on the chart for the first time since 1985, when it peaked at No.3, Running Up That Hill's current popularity is fuelled by its prominent and frequent use in Season 4 of the Netflix sci-fi/drama series Stranger Things. No.8 last week, Running Up That Hill now surges to No.2 (a new peak), with consumption of 44,739 units, made up of 5,863 digital downloads, 38,875 sales-equivalent streams and one 10-inch picture disc dating from 2013. It is, of course, encumbered with ACR, otherwise its combination of 7,470,792 premium audio streams, 1,029,666 ad-funded audio streams and 657,694 premium video streams, when added to its digital sales, would give it a total of 83,613 sales, relegating Styles to No.2 and providing Bush with a richly-deserved second No.1, more than 44 years after her first single, Wuthering Heights, topped the list. Running Up That Hill's renaissance is also reflected on the album chart, where Bush's chart-topping 1986 compilation The Whole Story leaps 76-19 (2,729 sales) – its highest position for eight years – while RUTH's parent album Hounds Of Love is back in the Top 200 at No.84 (1,431 sales)."
ACR explained: On 10 March 2017, Ed Sheeran claimed 9 of the top 10 positions in the UK Singles chart when his album ÷ was released. The large number of tracks from the album on the singles chart, 16 in the top 20, led to a change in how the chart is compiled with tracks from a lead artist eligible for entry limited to three. Also the idea of Standard Chart Ratios (SCR) and Accelerated Chart Ratios (ACR) were introduced, with ACR halving streaming points for records that have been in the charts for a while (which includes most catalogue tracks, excepting certain cases). So there you have it!