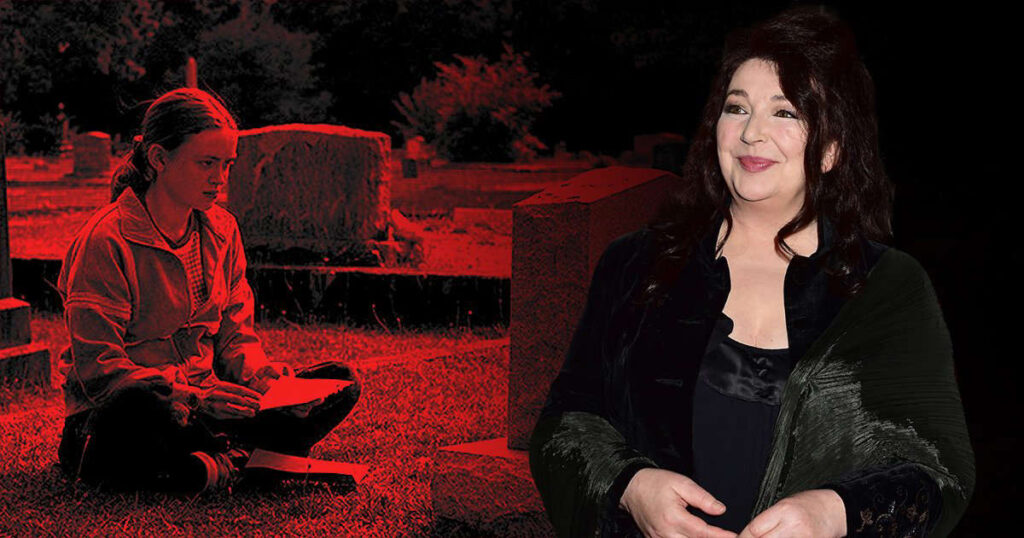 Okay, we will bravely try to summarise where we are in terms of the seemingly unstoppable global popularity of Running Up That Hill (A Deal With God) in the wake of it appearing on the Stranger Things TV show. Kate's phenomenal chart numbers and statistics on this have resulted in hundreds of articles and press reports and we will compile these in a separate post. We'll contain our excitement (eep) to calmly bring you these bullet points this Tuesday, 7th June 2022:
Kate has scored her first ever Top Ten hit in the USA on the Billboard Hot 100 with the highest new entry at number 8. Her previous best was with the same song at number 30 in 1985. 37 years is the longest ever gap between a song's debut and its first appearance in the US top 10.
Hounds of Love has re-entered the Billboard 200 Album Charts at Number 28, matching Kate's highest ever US album chart position (The Red Shoes also placed at 28 in 1993).
Hounds of Love tops the Billboard Alternative Albums chart, which of course we'd have swooned at in 1985, but it is technically her first ever number one on a Billboard album chart. It follows Love and Anger's appearance at the same position on the Billboard Modern Rock Tracks chart in 1989. She's also the highest new entry at number 3 with Running Up That Hill (A Deal With God) in the Billboard Global 200, however that one is calculated. We'll take it!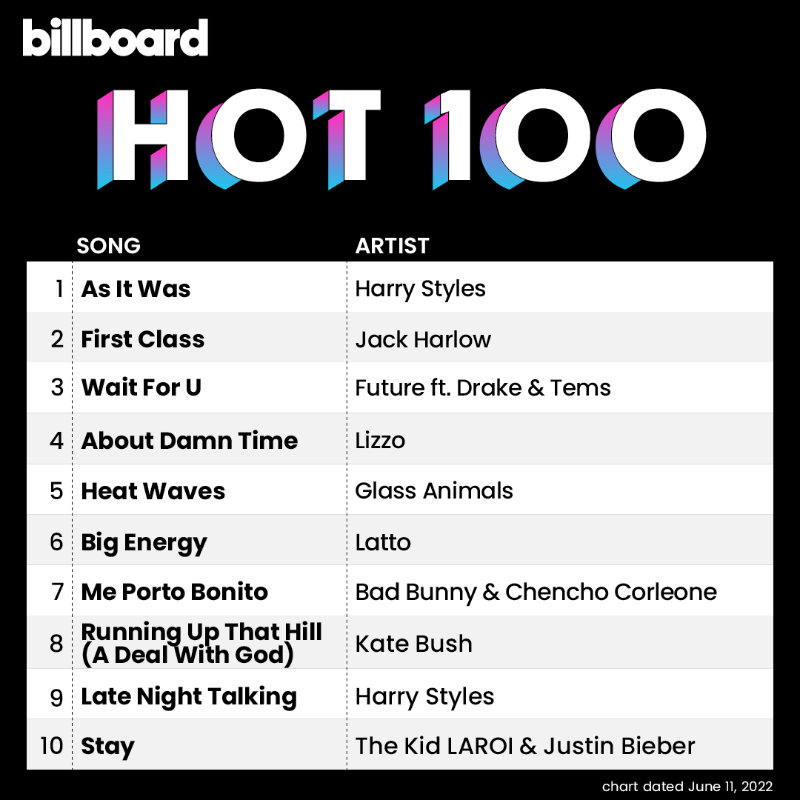 She has entered the official UK Top 40 at number 8 (a record run of Top 20 hit singles for a female artist across 6 consecutive decades). The UK midweeks chart has her climbing to Number 2, indicating an even higher placing on Friday's official UK chart.
She entered the Irish Top 40 at 10, Australian Top 40 at 2, New Zealand Top 40 at 2, Canadian Top 100 at 4, and German Singles Chart at 14.
Kate has posted a message about her excitement at this unprecedented response on her official site and also a separate press release.
As of today, Kate has climbed to Number 1 on the Global Daily Spotify Chart for the first time, which means more people are listening to Running Up That Hill (A Deal With God) on the world's largest music streaming platform than any other song. A truly momentous milestone. See all the stats breakdown from today here. It is also the Number 1 song in 18 different countries on Spotify; Australia, Belgium, Canada, Estonia, Iceland, Ireland, Latvia, Lithuania, Luxembourg, New Zealand, Saudi Arabia, Slovakia, South Africa, Sweden, Switzerland, UAE, UK, USA.
It remains the Number 1 song on iTunes in Ireland, the UK, the USA, Australia, Canada, France, Sweden, Norway, Luxembourg and New Zealand.
It remains the Number 1 most searched for song in the world on the Shazam app.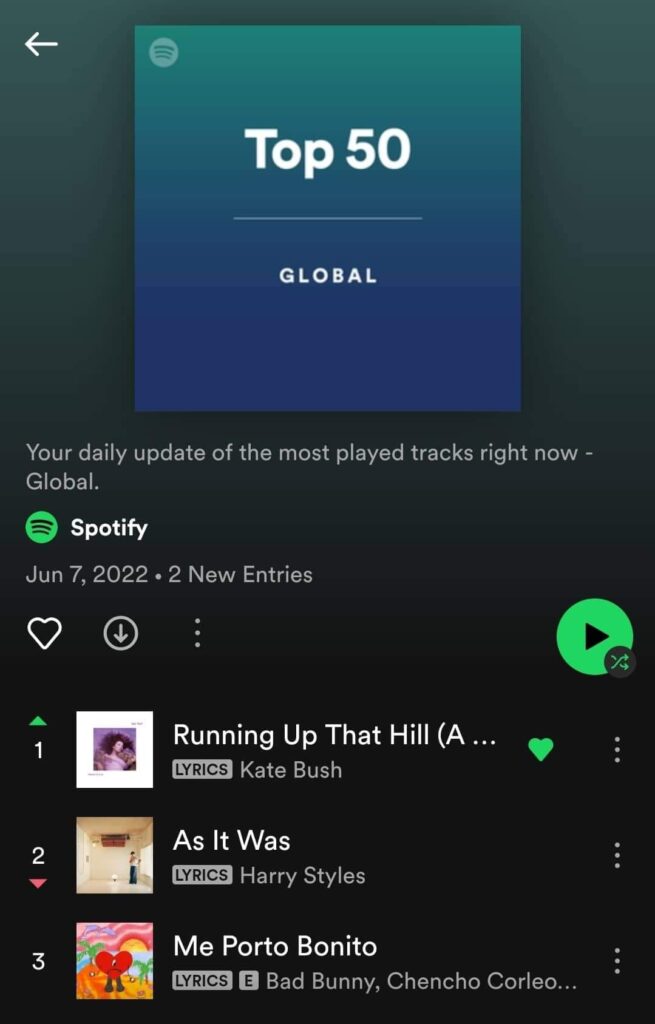 [ While we have you here, if you're liking what we do here at www.katebushnews.com consider throwing us a very small donation to help us support running costs here: https://ko-fi.com/katebushnews ]
We'll be juggling all the various chart watching as the week progresses, with a keen eye on where she lands in the UK Top 40 on Friday, with Kate's song having just been added to BBC Radio 1's "Hot Recurrents" Playlist (probably first time she's been play-listed on that station since the 1990s!) A clear indication of how young the audience for Running Up That Hill is now skewing – Kate is usually a BBC Radio 2 fixture when she enters the charts.
The UK press have typically shared in the excitement with articles discussing Kate's work. Alexis Petridis suggests "10 Kate Bush tracks to delight new listeners" in The Guardian here while Rebecca Nicholson on why Kate is timeless in the Observer here. She writes: "If any song can steel itself against over familiarity, it's Running Up That Hill. Whether it is for the first time or the 500th time, you still hear it now and think, what the hell was that? And then you play it again." Many, many media outlets in the UK, Ireland and elsewhere ran stories when Kate posted her message on her official site. It's always cause for excitement.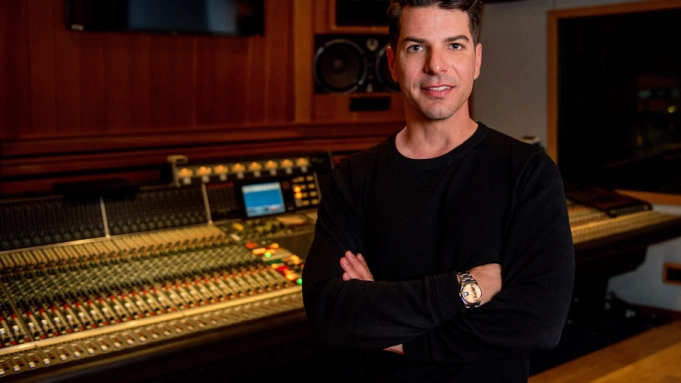 Over in the USA, the world's largest music market, Mike Chester, Warner Records EVP of radio and commerce has said: "Kate Bush's global resurgence by way of her song's integration into Stranger Things has catapulted her back into the zeitgeist of popular culture. This exciting moment of discovery moved us to service the song to all formats of radio, immediately. We're thrilled that our partners at the DSPs and radio are reacting so favourably to this watershed moment."
According to an excellent article in Primetimer: "That means Bush's record company is pushing the song like it's a brand new hit, and it's looking for airplay on stations that play current tunes instead of stations that only play classic rock. That's incredibly rare, because labels want listeners to focus on what's new. By reactivating "Running Up That Hill," the record company is indicating its faith that the song is going to outlast this first wave of attention." A strategy that has worked in the past for songs like "Bohemian Rhapsody" by Queen and "Unchained Melody" by the Righteous Brothers. The article goes on to say that "After decades as a beloved alternative artist, she's suddenly in the mainstream alongside Harry Styles and Lizzo. It's hard enough for an alt rock artist to crack the top of the Hot 100, but it's unprecedented for a legacy alt rocker to make her first top 10 appearance after so many years."
If you want to read some very in-depth geeky US chart discussion on what it is about Running Up That Hill (A Deal With God) that made it so rife for this kind of revitalisation – well some Billboard staffers discuss this question and more here. And we recommend this excellent blog post by Sean Ross over on Radio Insight which discusses Kate's career journey on that heavily formatted medium, US radio.
Stranger Things' music supervisor Nora Felder, who has given a few interviews at this stage, is once again interviewed by Billboard and asked about the current chart success: "With regard to the phenomenon of this surreal Kate Bush moment, I'd have to say my reaction is still, "Ummm, is this really happening?!?" I was hopeful that Kate's song would resonate for the show and be significant for today's youth for a variety of reasons. But honestly, who could have possibly imagined or foreseen this lightning-in-a bottle moment?….for me, that reflects the power of a meaningful, timeless song – such as "Running Up That Hill" – and how its significance can be revived and re-conceived when it is married to a remarkable story such as Stranger Things …this season and Kate Bush's song really seem to touch on the experience of alienation and emotional struggle that a lot of teens have been and continue to be going through, albeit in different ways…it was such a breath of fresh air to hear Kate Bush's public message this weekend, particularly since it was my understanding that she's known to be a very private person. I also believe that her decision process/mantra in relation to her art (the music) is simply to follow her heart. I truly believe her decisions throughout life are not motivated by anything else other than that. She clearly loves Stranger Things, and has a deep respect for the Duffer brothers' vision. The fact that she allowed her song to be aligned with such powerful messages warms my heart. It makes me incredibly happy that a whole new audience is re-experiencing her song, and hope it can provide a source of strength, as many run up their own hills in life."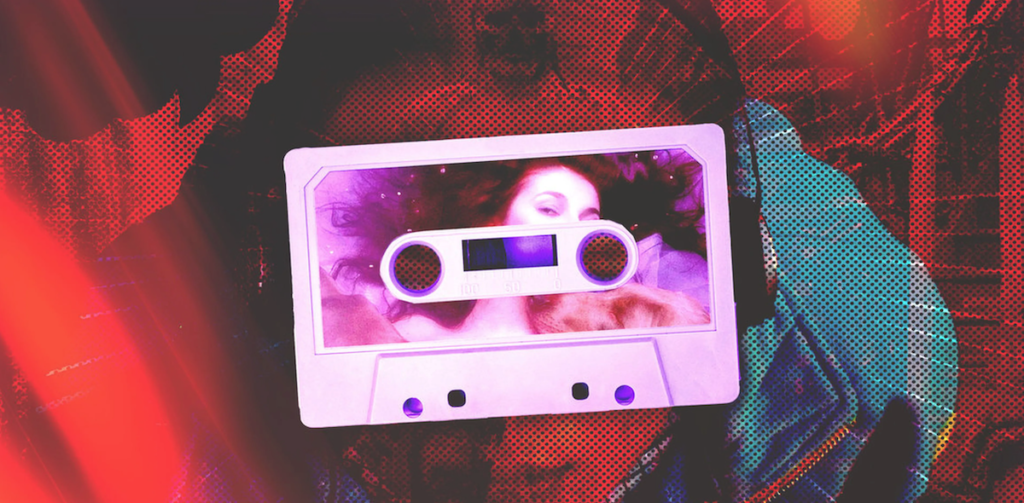 Another excellent article in The Ringer by Nate Rogers has this to say: "Even when considering the way charts are changing to include more older music, though, the Kate Bush resurgence is still an aberration. "We have songs that kind of bubble up and then bubble back down," Jason Lipshutz, the executive director of music at Billboard, explains, "and then you have the other instances like this, where it's, like, a monumental leap on the charts." Rogers goes on to say that "…the supernova pop-cultural moment surrounding "Running Up That Hill" has been building for decades."
Finally, while we're in this crazy bubble of activity, give a listen to a 14 minute discussion today about Kate's return to the US charts on the All Of It podcast here.
[ While we have you here, if you're liking what we do here at www.katebushnews.com consider throwing us a very small donation to help us support running costs here: https://ko-fi.com/katebushnews ]