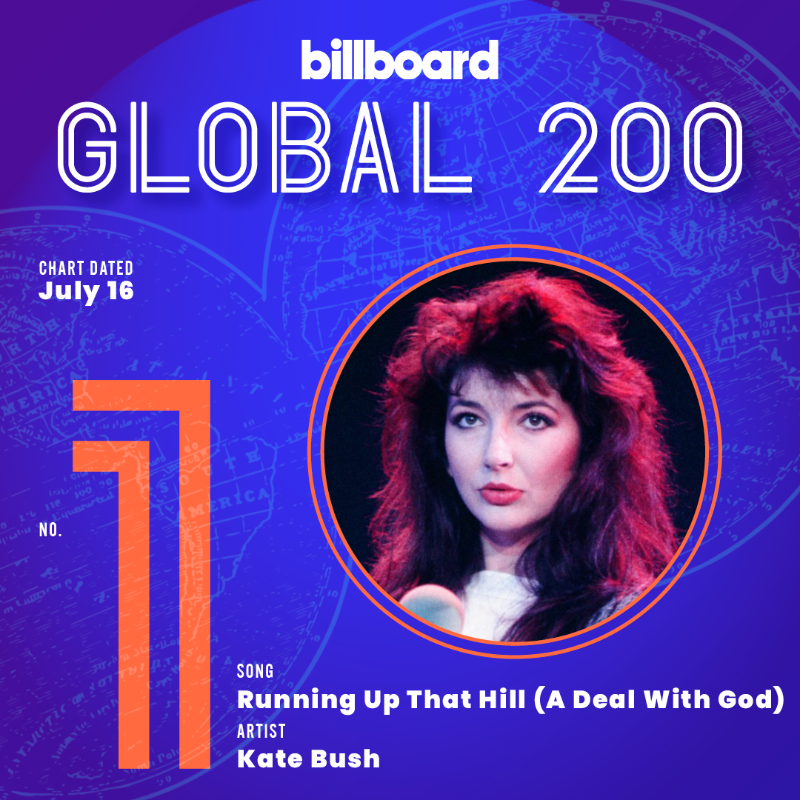 Kate is this week back at No.1 on the formidable Billboard Global 200 singles chart, the one that covers the combined chart performances from around the whole world! She has knocked Harry Styles off the global top spot, the second time Kate has achieved this staggering feat with her song, and once again basically has "the biggest song in the world" as Billboard describe it themselves. In the USA today, thanks to ever-increasing American radio airplay and formidable download sales and streaming figures, Kate has climbed back up the US Charts to No.4, returning to her highest ever placing in the Billboard Hot 100! Can she climb even higher? This is her SIXTH week in the US Top Ten. Anecdotally, we are hearing from fans in the US that Running Up That Hill (A Deal With God) is being played everywhere.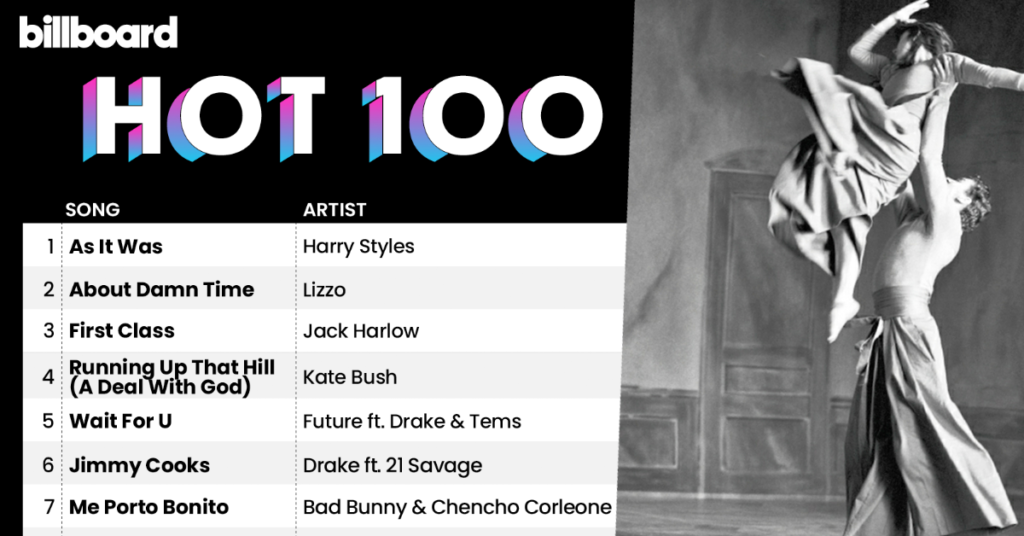 Kate has also climbed back up several other national charts; to No.6 in The Netherlands, No.5 in Germany and No.2 in Switzerland. Tomorrow we will see if she has risen further in the Canadian charts and that incredible Billboard Global 200, where she is currently back up to No.3. See Friday's news post for more current global chart news, including Kate at No.1 in Ireland and Australia for the 4th time in each country.
Spotify updates: The song is at No.1 globally on Spotify this week, and yet again on today's Daily Global chart, her 13th time topping it! Also very significantly, Hounds of Love has climbed to No.7 on the Global Albums Weekly chart on the world's largest streaming music platform! Spotify have launched a newly curated "This is Kate Bush" playlist (see it below) that features 50 tracks from throughout Kate's career and could well help listeners explore other corners of Kate's catalogue. Her monster hit just continues to astonish.
NB: Have you downloaded your FREE copy of HomeGround Magazine's EPIC 134-page 40th Anniversary issue yet? All details and download link at this post here!
On her official website, Kate has graciously congratulated LF System who take over the No.1 position in the UK charts after Kate had a three week run at the top. The ACR rule now applies again to Kate's track, so Running Up That Hill (A Deal With God) has to achieve twice as many streams as other songs to achieve the equivalent in converted sales, hence the drop to No.3 on the chart. Kate writes:
Many, many congratulations on the UK No. 1 single for LF SYSTEM.
So many of you have loved the last two episodes of Stranger Things, released last Friday. We've received an overwhelming number of messages. I just want to say again, how very proud I am that RUTH has been included in the shows in some small way.
Thank you everyone for supporting RUTH with such positivity. It's lovely to see the song continuing to do so well around the world – it's just boomeranged back to No 1 in Australia!
Hope you can get a chance to enjoy the arrival of summer.
Best wishes,
Kate
[WHILE WE HAVE YOU HERE, IF YOU'RE LIKING WHAT WE DO AT WWW.KATEBUSHNEWS.COM CONSIDER THROWING US A VERY SMALL DONATION TO HELP US SUPPORT RUNNING COSTS HERE: HTTPS://KO-FI.COM/KATEBUSHNEWS]
Finally, something we haven't linked here before was this solid hour-plus Youtube discussion about Running Up That Hill (A Deal With God) from the Produce Like a Pro Youtube channel. It includes chats with those involved in the song and Hounds of Love album, such as drummer Stuart Elliott, engineer Brian Tench and engineer Nick Launay (talking about his work on The Dreaming).