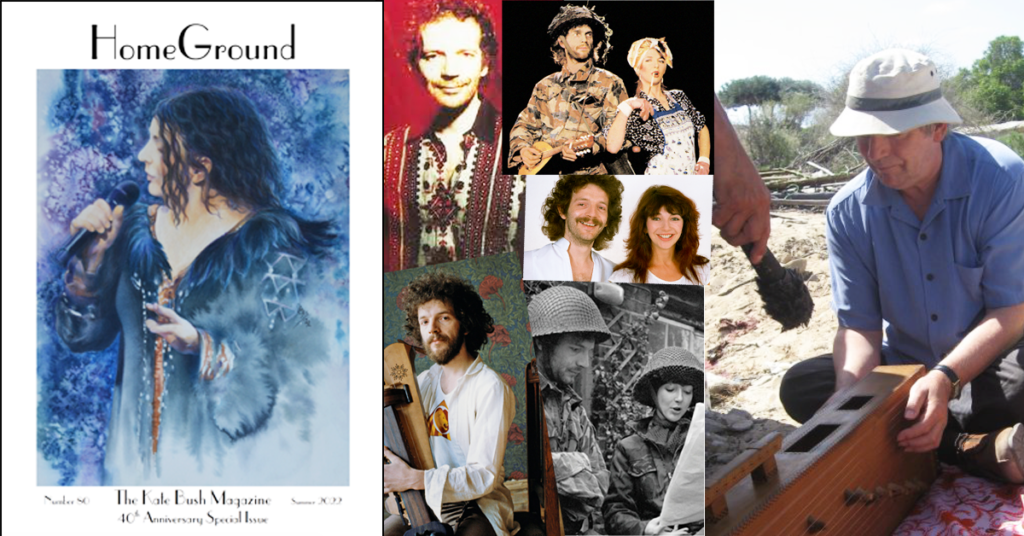 A highlight of the epic, new 134-page issue of HomeGround Magazine just published online to mark 40 years of publication, is the contributions to it by Kate's two wonderful brothers; Paddy Bush and John Carder Bush. Paddy Bush has written a beautiful new piece for HomeGround readers, "Our Journeys Through Time" – a moving reminiscence of what music, and the connections made through it, have meant to him on his own journey through life. I'll confess I had a lump in my throat as I read it – he talks so movingly about the days spent working on the recording of Army Dreamers in 1980 with Alan Murphy, Brian Bath and Kate.
It's good to know you are still there and that we are in a time continuum with a life of its own. Music has transformed us and carried us through time together. My life still overflows in musical instruments, they are the time machines that take me to places I wouldn't get to any other way.

Paddy Bush, 2022
As well as checking out the magazine (it's a FREE download, all details here!) please be sure to watch the marvellous Celia Lowenstein documentary that Paddy made in Madagascar in 1998 – Like A God When He Plays – on Vimeo below. Paddy says just skip through the blank bits where the ads would have played! Paddy's journey is indeed a spiritual quest as he finds delight and enlightenment pursuing his musical hero Rakotozafy, and the legends of the music which invigorated his life at a time of self-doubt. The programme features Justin Vali, the famed valiha player who performed on Kate's tracks Eat The Music and The Red Shoes. A wonderful insight into the country of Madagascar and it's people, the programme makes a powerful yet simple point: music connects us all and sets our souls to flight. We have wings….