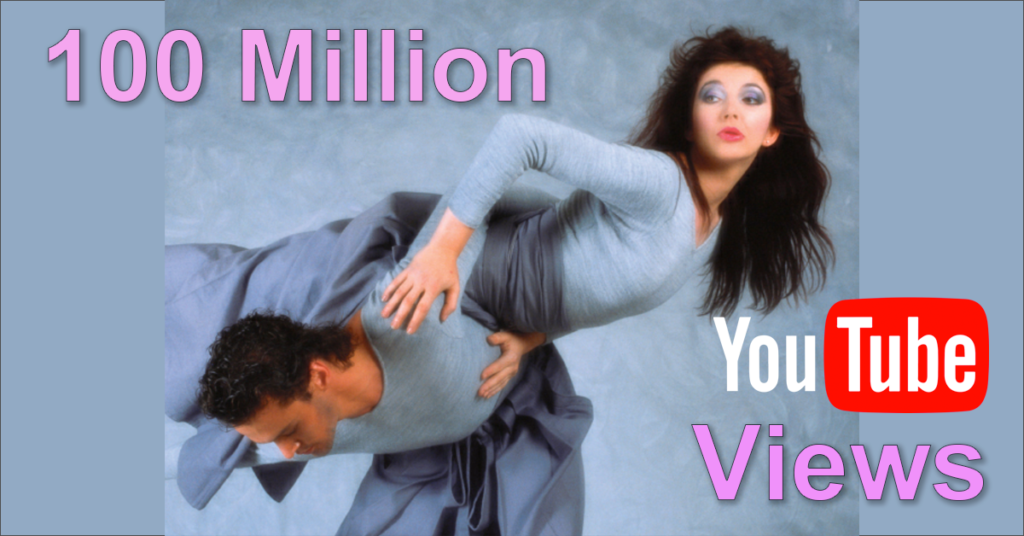 Youtube: Since Stranger Things 4 landed on May 27th, the Youtube views of Kate's iconic, dance-based video for Running Up That Hill (A Deal With God) has sky-rocketed, almost 52 million views have now brought the total for the video (since Kate released it to her official Youtube channel in 2011) to 101 million+ views! It remains the most-watched music video right now in Australia, Ireland and the UK and is Top Ten in 10 other countries. Have YOU seen it? 😉
[WHILE WE HAVE YOU HERE, IF YOU'RE LIKING WHAT WE DO AT WWW.KATEBUSHNEWS.COM CONSIDER THROWING US A VERY SMALL DONATION TO HELP US SUPPORT RUNNING COSTS HERE: HTTPS://KO-FI.COM/KATEBUSHNEWS]
Official Charts: Global: Kate has just landed her THIRD week (second in a row) at No.1 on the Billboard Global 200 chart. We can't stress enough how major that is, the chart ranks songs based on streaming and sales activity culled from more than 200 territories around the world, as compiled by Luminate. Amazing. USA: In the US Kate has remained at No.4 on the Billboard Hot 100 for the second week running (third week in total at this peak) as airplay increases each day nationwide. This remains Kate's highest ever singles chart position in the the USA, the world's largest music market. Ireland: Kate has achieved her 5th consecutive week at No.1 in Ireland! Unbelievable. UK: Kate remains in the Top 5 in her home country, dropping two places to No.5, with the ACR chart rule now back in place for a second week, but here's a chart fact that's worth remembering: Kate has now, in 2022, matched her 7-week run in the UK Top Ten that she achieved with Wuthering Heights in 1978! If she remains in the Top Ten on Friday she'll have beaten that career record. Astounding.
Get your FREE download copy of the epic, new 134-page issue of HomeGround Magazine here!
Australia: Kate has scored her 5th non-consecutive week at No.1 in Australia (she dropped to No.2 for one week at one point) in the week that Kate congratulated the Brisbane Pub Choir for their rousing performance of Running Up That Hill (A Deal With God). Canada: Kate has climbed back up to No.3 in the Canadian chart. Elsewhere on official charts, Kate is at No.7 in Germany, No. 2 in New Zealand, No.9 in France, No.24 in Italy, No.7 in Sweden, No.10 in Norway, No. 4 in Austria, No. 12 in Denmark, No.23 in Belgium, No. 3 in Switzerland, and No.9 in The Netherlands.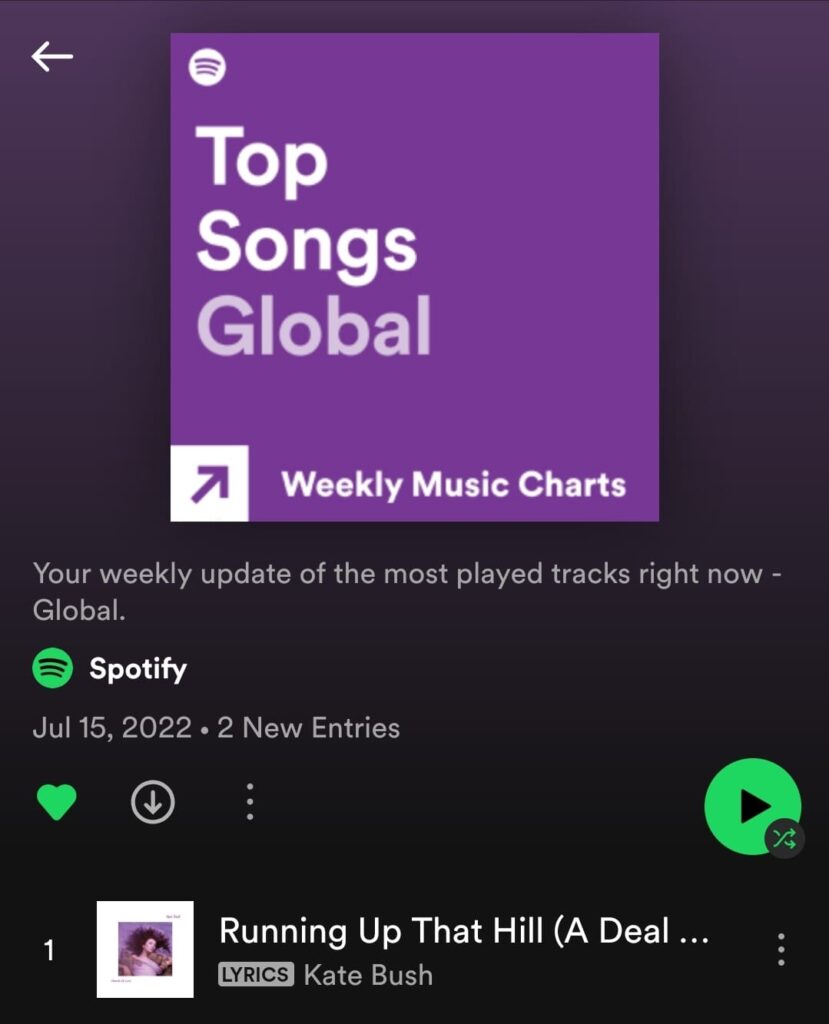 Spotify: Kate is enjoying her second week in a row (third in total) at No.1 the Global Weekly Songs chart on Spotify! An extraordinary success. Last week Kate had achieved 13 consecutive days at No.1 on the streaming giant's daily global chart. Running Up That Hill (A Deal With God) has now had almost 441 million streams on Spotify, with a staggering 328 million of those since Stranger Things 4 arrived on May 27th. On Spotify today she has moved down to No.3 on the Global Daily Song chart, but remains No.1 in Australia, Canada, Estonia, Ireland, New Zealand, Saudi Arabia, United Arab Emirates and the USA. RUTH is No.2 in Belgium, Iceland, Latvia, United Kingdom, No.3 in Lithuania, Luxembourg, No.4 in Czech Republic, Slovakia, Sweden, Switzerland, No.5 in Bulgaria, No.6 in Austria, Cyprus, Israel, No.7 in Romania, No.8 in Hungary, No.9 in Germany, Poland and South Africa, No.10 in Singapore, No. 11 in Denmark, France, Netherlands, Norway, Philippines, Portugal, No.12 in Finland and No.14 in Malaysia.
iTunes store: The Whole Story is today No.1 in the Irish iTunes charts! On iTunes currently, Running Up That Hill (A Deal With God) is No. 1 in Australia, No.2 in Canada, Czech Republic and the USA, No.3 in New Zealand and Hungary, No.4 in France, Greece, Ireland and the UK, No.7 Brazil, Denmark and Mexico, and No.9 in the United Arab Emirates.
Apple Music: On Apple's own Spotify streaming equivalent, Apple Music, Running Up That Hill (A Deal With God) is Top Ten in no less than 37 countries! Shazam: Kate is the No.1 most searched for song in the USA and No.2 worldwide having been No.1 for many weeks.
If you loved the gentle, orchestral version of Running Up That Hill that plays over the end credits of the Dear Billy episode of Stranger Things, a Variety article discusses the production of the "lullaby" orchestral / full choir version of Running Up That Hill by composer Rob Simonsen, heard over the end credits of Episode 4: Dear Billy. The article includes an Instagram clip (above) of the recordings taking place in Air Studios in London.
Finally, for the third re-print of the Kate Bush edition of their popular "Ultimate Music Guide" bookazines, Uncut Magazine has added a feature about the current success of Running Up That Hill (A Deal With God) and chat to Stranger Things Music Supervisor, Nora Felder, about how the song came to be used on the show. Nora was nominated for an Emmy this week for her work on the show. This third, updated, re-print of this bookazine is available to order here.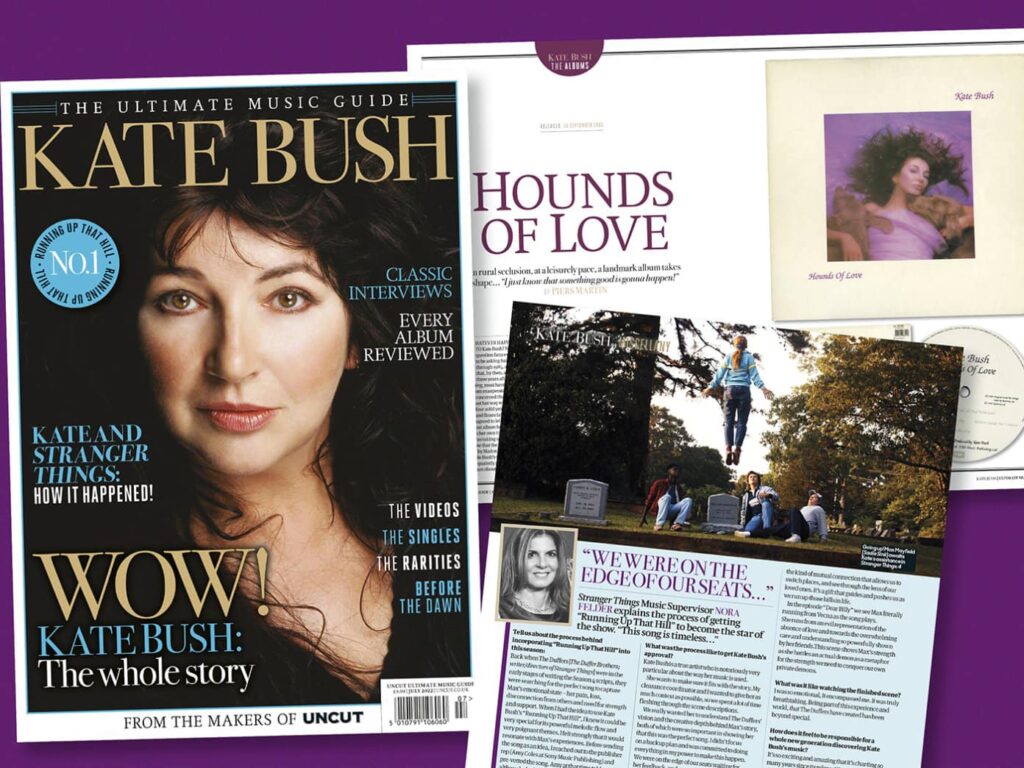 Get your FREE download copy of the epic, new 134-page issue of HomeGround Magazine here!