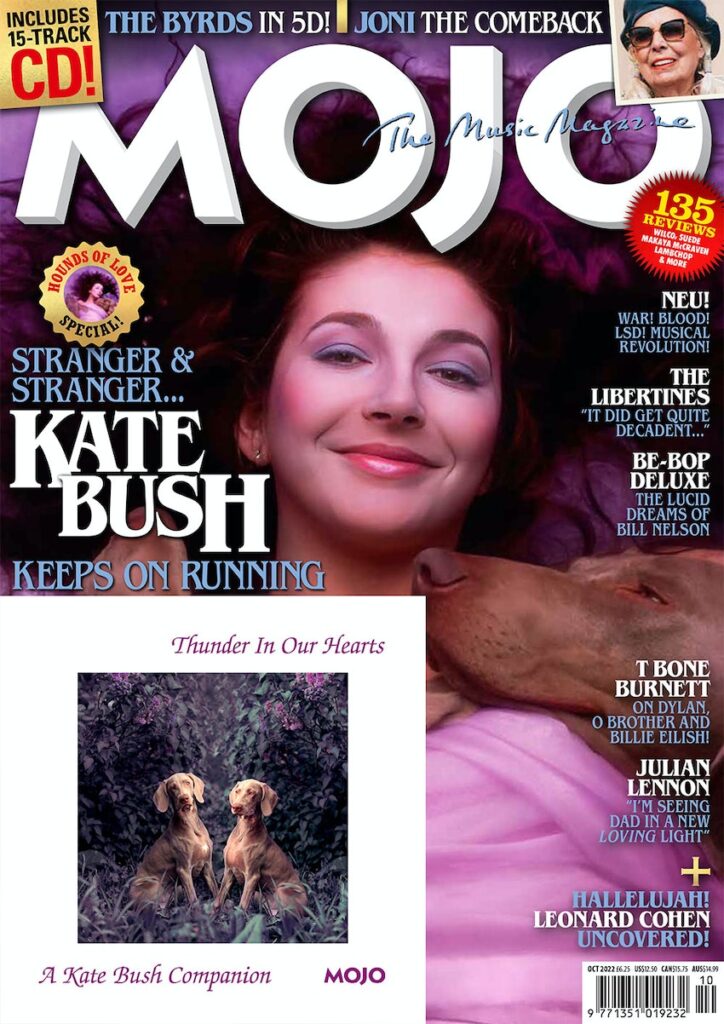 Mojo Magazine in the UK have joined in the Running Up That Hill (A Deal With God) resurgence with a cover feature and "Kate Bush Companion" themed cover-mount CD. From the magazine's site:
"Everyone's talking about Kate Bush, but no one's going as deep into Running Up That Hill, and its parent Hounds Of Love album, as MOJO. Collaborators, admirers and MOJO's top writers tell the incredible story of her greatest record, and its resurrection.. This month's covermount CD is Thunder In Our Hearts: a collection of music that inspired and sustained Kate Bush – including Roy Harper, Anne Briggs, Eberhard Weber and Billie Holiday – plus exquisite Kate Bush covers by Tracey Thorn and Nite Jewel." The magazine is available by mail order here. CD tracklising:
Roy Harper – You (The Game Part II)
Zaine Griff – Flowers
Nite Jewel – Hounds of Love
Anne Briggs – Sovay
Ewan MacColl & A.L Lloyd – The Handsome Cabin Boy
Tracey Thorn – Under The Ivy
Youth & Gaudi – Bass Weapon
Thomas De Hartmann – Hartmann/Gurdjieff – The Bokhairian Dervish, Hadji Asvatz-Troov
Planxty – Smeceno Horo
Siobhan McKenna – Soliloquy of Molly Bloom
The King's Singers – Tsintskaro
Eberhard Weber – Pendulum
Billie Holiday – Strange Fruit
London Symphony Orchestra – Delius – A Song of Summer
Mary O'Hara – My Lagan Love
As before, Mojo also have a special subscribers cover (unadorned with other text etc) and it looks beautiful with that gorgeous Hounds of Love photo by John Carder Bush. The covermount CD is really excellent and thoughtfully put together. You will hear Kate herself on the Zaine Griff and Roy Harper tracks. Well done, Mojo! Thanks to the Kate Bush Clippings page for the photos.