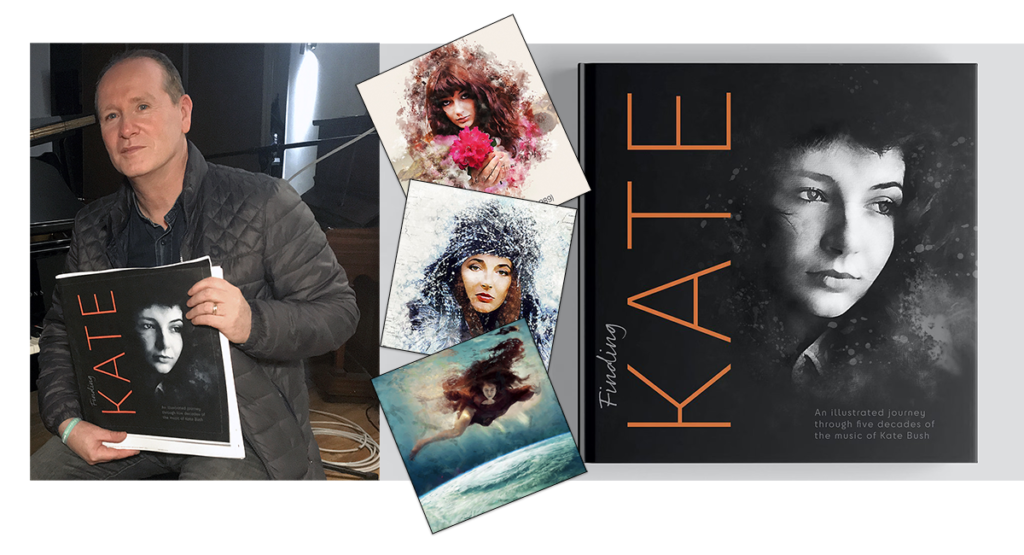 I was so saddened and shocked to hear the news on Christmas Eve that our friend and fellow Kate Bush fan, that amazing whirlwind of enthusiastic energy, Michael Byrne, had passed away after a short illness that came so unexpectedly upon him over the last couple of months. Mere weeks ago I had been chatting with Michael, a fellow Dubliner, about him hopefully attending the performance of Kate's songs in the Irish language in Smock Alley Theatre with me – something I know he'd have been ecstatic about, but he wasn't well enough.
Michael, a kind, industrious, soft-spoken man who ran a creative publishing company in Dublin, first came to my attention during lockdown in 2020 – contacting me to feel out an ambitious, high quality Kate Bush coffee table book project, Finding Kate, that he was undertaking with his colleague, the supremely talented Irish designer and illustrator, Marius Herbert. Needing something to throw his endless energy into while business took a pandemic downturn, his passion and sincerity as a fan managed to convince me that this was going to be special so I was on board, plugging his crowdfunding campaign (it wasn't a cheap book to produce) and helping to spread the word. Michael succeeded in getting interviews on national Irish radio and press articles about the book, and I am delighted that we got the chance to record an episode of the Kate Bush Fan Podcast together all about the Finding Kate project. You can hear it here – it's so wonderful to be able to hear him talk last year about realising his dream project. The detailed effort that went into creating each image is so evident in his voice.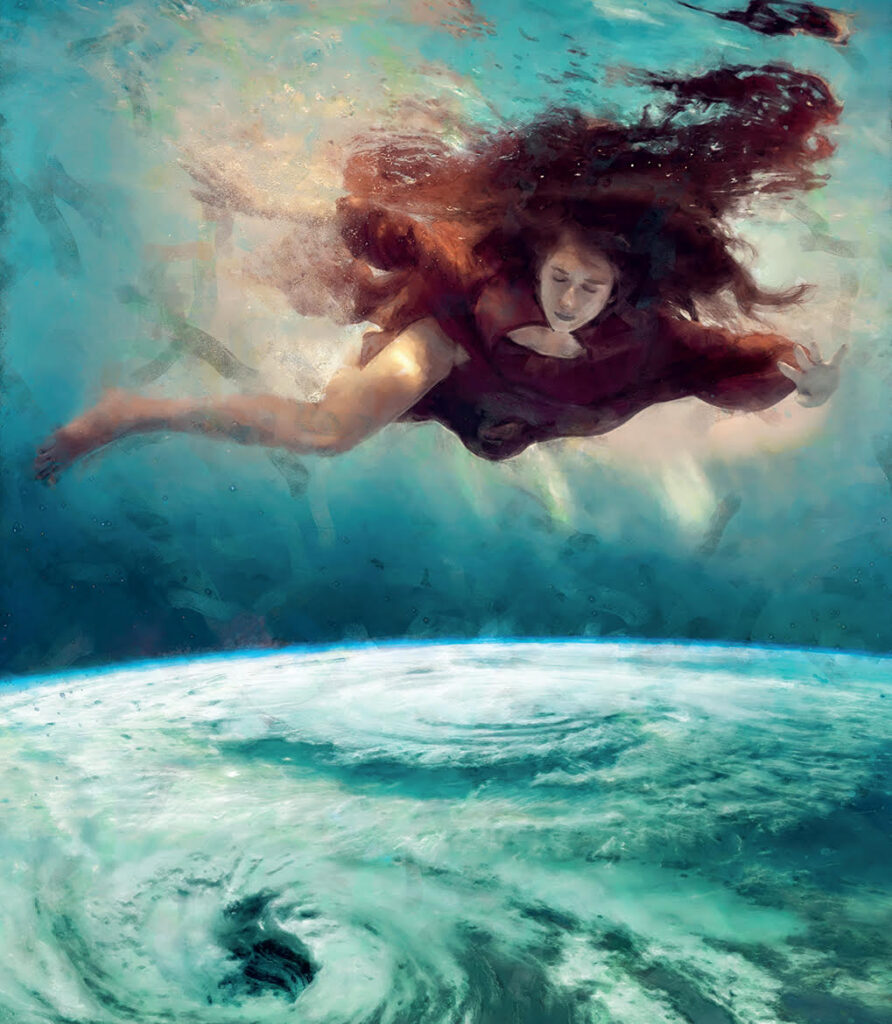 The early peeks I got of the book were breathtakingly good. The reaction from fans was highly enthusiastic, the book was hailed as a great success. As I wrote before on this site, "it was a joy to leaf through the pages of the book and talk through this impressive piece of work with its clearly relieved and delighted creators. As promised, the book is a visual feast, illustrating twenty six of Kate's songs across sumptuous double-page spreads. The songs have been chosen by Michael, a major Kate Bush fan (it shows!) who writes beautifully about each song's significance in Kate's career and what they mean to him."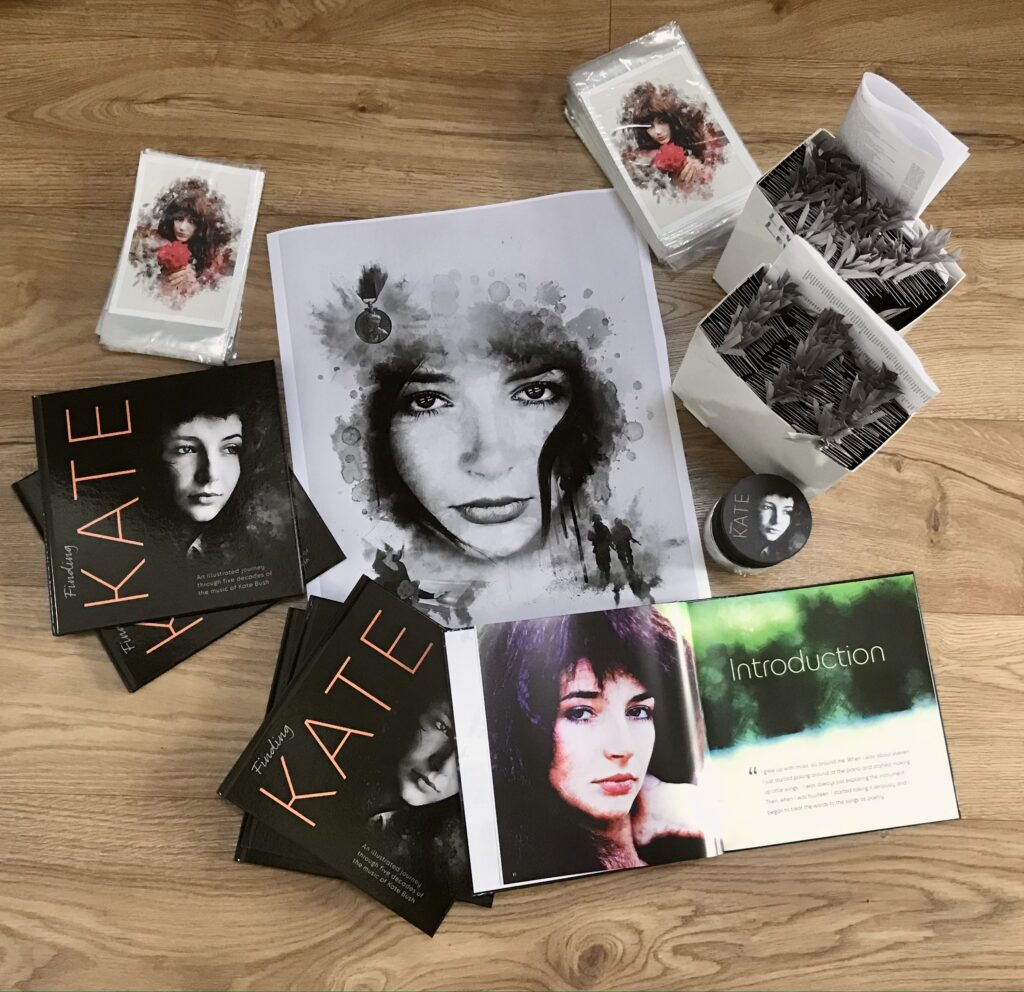 "The unexpectedly generous introduction sections by Michael throughout constitute a wonderful, concise synopsis of Kate's recording career, so there's plenty of great reading here for both casual and more hardcore fans of Kate. But, this large LP-sized book is intended to be a visual feast and Marius has produced some breathtaking images filled with detail and touches that were agonised over for months between the pair – a honeybee flies across the pages from a near psychedelic explosion of Kate in colourful nature imagery (and a familiar yellow sun-design) for Delius, a floating, angel-winged electric guitar poignantly reflects the departed musicians name-checked in Blow Away (for Bill), a water-submerged Kate simultaneously floats, dreamlike, above the planet for Hello Earth, an Irish dancer's feet captured in whirling mid-step on a flagstone floor for Jig of Life, four glorious pages devoted to A Sky of Honey where the crimson, red and rust of golden hour transform a female figure into an explosion of feathered wings and avian friends, soaring skyward…and so many, many more surprising visuals."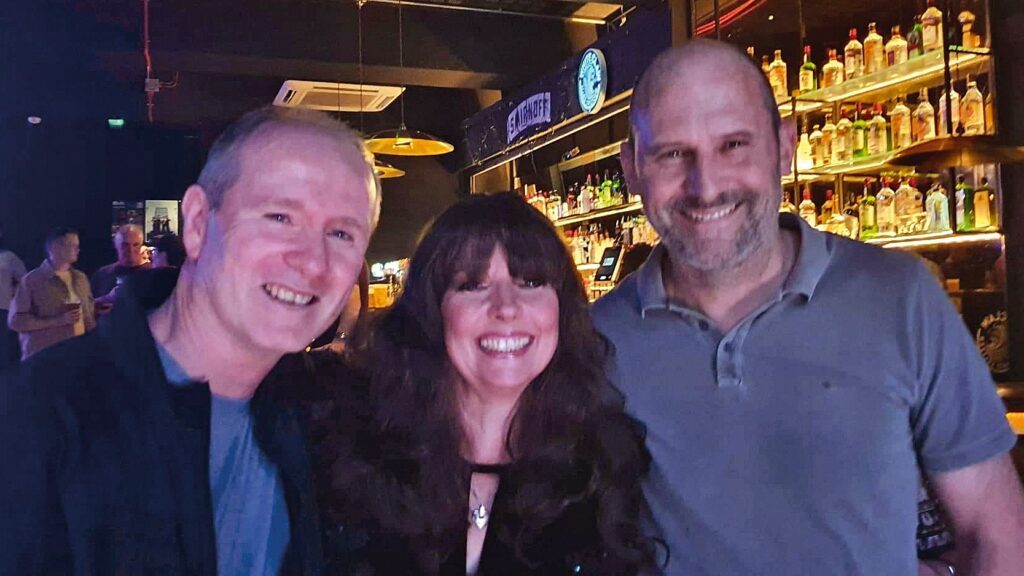 Michael had told me that one of the sparks of inspiration to do the book came from seeing the Kate tribute band Cloudbusting play in The Sugar Club in Dublin, so it was my pleasure just a few short months ago in July to arrange for Michael and Marius to meet the band backstage before their Dublin gig, where he presented the band members with copies of the book. It was plain to see the joy and pride Michael had on his face as he explained the book and thanked the band for spreading Kate's music out into the world. He was floating on air. I had no way of knowing that was the last time I'd see him, but I'm glad it was such a joyous occasion for him. Very recently, Michael managed to get the book mentioned again on national radio here in Ireland, presenter Ryan Tubridy truly impressed by the book – a flood of new orders ensued. Of course.
Our thoughts and deepest sympathies are with Michael's wife Deirdre, his children Holly, Conor and Alyson and to all his family and friends. He will be terribly missed. An online book of condolence is here. We especially send a big hug to Marius, who patiently and painstakingly helped Michael to put together something that remains utterly unique for Kate's fans around the world to enjoy. Marius, your illustration work is exquisite. You have done yourself and Michael so very proud. I would urge anyone reading this to get your copy of the book to see it for yourself. It's available to order worldwide from https://findingkatebook.com/ – RIP Michael, you did it x