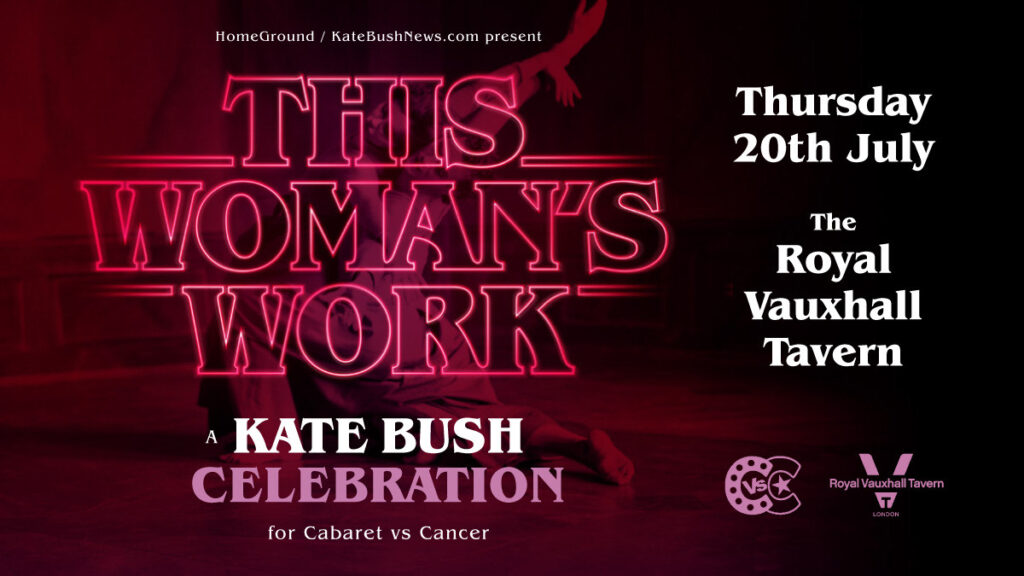 THIS WOMAN'S WORK – A KATE BUSH CABARET CELEBRATION AT THE ROYAL VAUXHALL TAVERN IN LONDON
A FUNDRAISER FOR CABARET VS CANCER
Following last year's sell out show, A Deal With God, HomeGround and KateBushNews.com are thrilled to be back once again at the iconic LGBTQ+ venue for another Kate Bush themed cabaret show to raise money for Cabaret vs Cancer.
This Woman's Work will be a celebration of the work of Kate Bush, featuring cabaret, drag and burlesque performances of, or inspired by Kate songs. From Wuthering Heights to Before the Dawn, her Whole Story will be represented.
The cast will be announced shortly, but we can promise you returning stars from last year's show, plus some exciting new names. Watch this space and the RVT socials.
Tickets are £12 from:
https://www.outsavvy.com/event/14473/this-womans-work-a-kate-bush-celebration
Doors at 7pm, show from 8pm
The Royal Vauxhall Tavern is a world famous LGBTQ+ performance and club venue, located in Vauxhall, South London, just a few minutes walk from Vauxhall underground, rail and bus station.
Cabaret vs Cancer is an independent charity set up in 2014 by performer Rose Thorne and Dave from HomeGround is a Patron for the charity. Theyraise money, via live events and online auctions to help families, especially children cope with the effects of cancer, you can find out more at https://www.cabaretvscancer.co.uk/