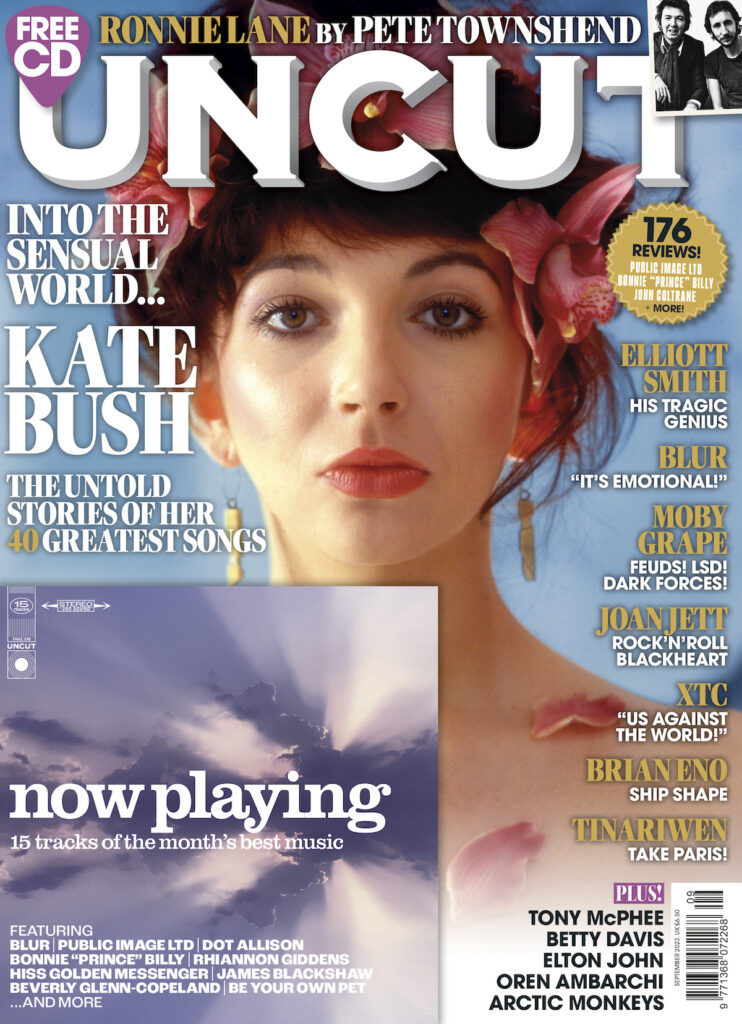 Uncut Magazine are no strangers to publishing great looking Kate Bush cover features and their upcoming issue (September 2023 – it's a publishing thing!) is no exception, featuring a wonderful portrait of Kate by her brother John Carder Bush – we remember seeing a variant from this "orchid" photo session used way back on a cover of Record Mirror in 1981. This issue, which features "The untold stories of 40 of her greatest songs" is out in the shops in the UK and Ireland from Thursday 13th July this week OR YOU CAN ORDER IT ONLINE HERE.
We've actually seen the feature in Uncut now (out in shops today!) and the good news is we're very impressed! The selection of 40 (greatest) songs is very well-considered and agreeably career-spanning, while each song in the 10-page feature is illuminated by the welcome presence and insights of those gifted individuals who actually worked on the songs with Kate; drummer Stuart Elliott, engineer Peter Henderson, producer Andrew Powell, guitarist Brian Bath, singer Roy Harper, Fairlight pioneer Richard Burgess, drummer Preston Heyman, engineer Teri Reed, Irish trad musician Donal Lunny, bass player Youth, strings arranger Dave Lawson, producer Joe Boyd, concertina player Alistair Anderson, saxophonist Nigel Hitchcock, vocalist Lol Creme, accordionist Chris Hall, drummer Peter Erskine, engineer Stephen W Tayler, drummer Steve Gadd and multi-instrumentalist Kevin McAlea! Phew.
Thanks to Uncut editor Michael Bonner for sending the news on to me. He writes:
"In June, "Running Up That Hill" passed one billion streams – another phenomenal milestone in the long, strange afterlife of KATE BUSH's uncanny masterpiece. But there are, of course, many other classic songs in her canon – potent and idiosyncratic mini-dramas about escapologists, snowmen, second-rate actors and even the King of Rock'n'Roll himself, whose creator has utilized harpsichord, uilleann pipes, smashed crockery, a Bulgarian folk trio and even the sonic attributes of a kitchen cupboard to realise her extraordinary artistic visions.
In this month's UNCUT we celebrate 40 of Kate's greatest songs in the company of musicians and eyewitnesses, as we attempt to unravel the magical thinking and creative mysteries behind one of the most consistently adventurous and radical songbooks of the last 50 years – from her career defining hits to b-sides, deep cuts and even a Christmas song.
"The one thing that she taught me, there are no barriers," says one collaborator. "Too many people think you shouldn't do this or that. But Kate would often ask, "Is that weird?' or 'How can we make this weird..?"