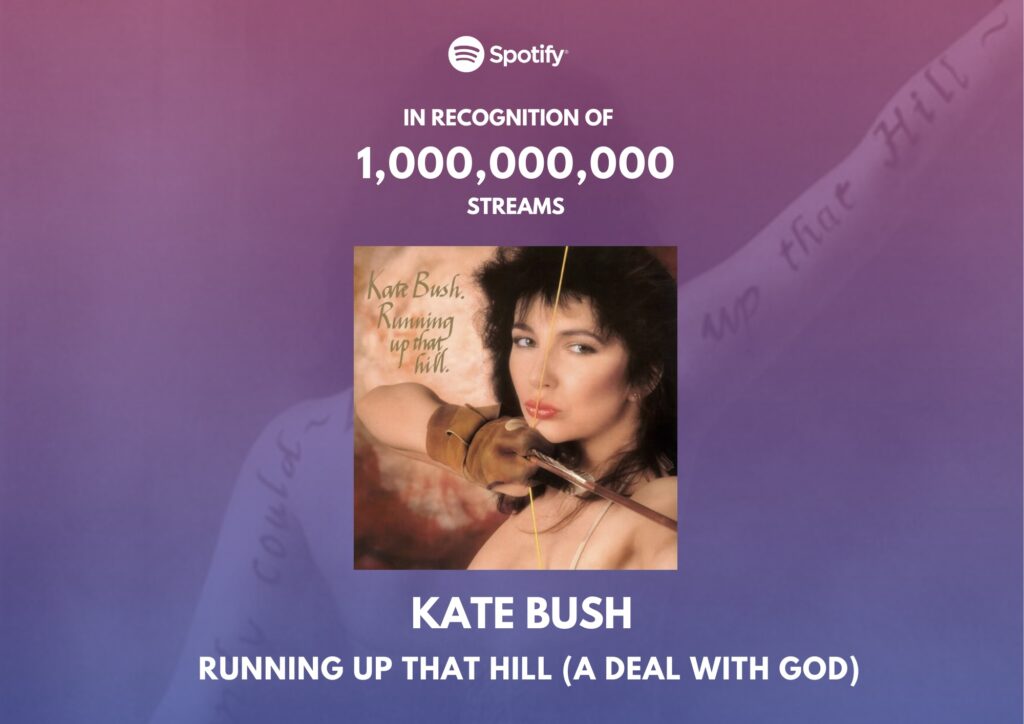 A momentous milestone today, Kate has surpassed 1 Billion streams of her song Running Up That Hill (A Deal With God) on Spotify! It is, of course, the first of her songs to do so in the modern streaming era. Kate becomes the first female artist to hit this milestone with a song released in the 1980s. In that crazy whirlwind of chart activity and success in 2022 that followed the song going viral and becoming her biggest career hit to date, it was often difficult here on the news site to get a satisfying snapshot of this truly global phenomenon that occurred. How could we illustrate how massive a brand new hit the song had become and the sheer number of people around the world who were now listening to it? What helped greatly to show this were two sources in particular, the Billboard Global 200 chart and also the daily/weekly Global charts on Spotify. In this article we'll explore just how significant Kate's achievment is.
Update: Kate has added a lovely post to her official site (appropriately accompanied by a NASA photograph of the Ganges river delta) clearly blown away by today's news!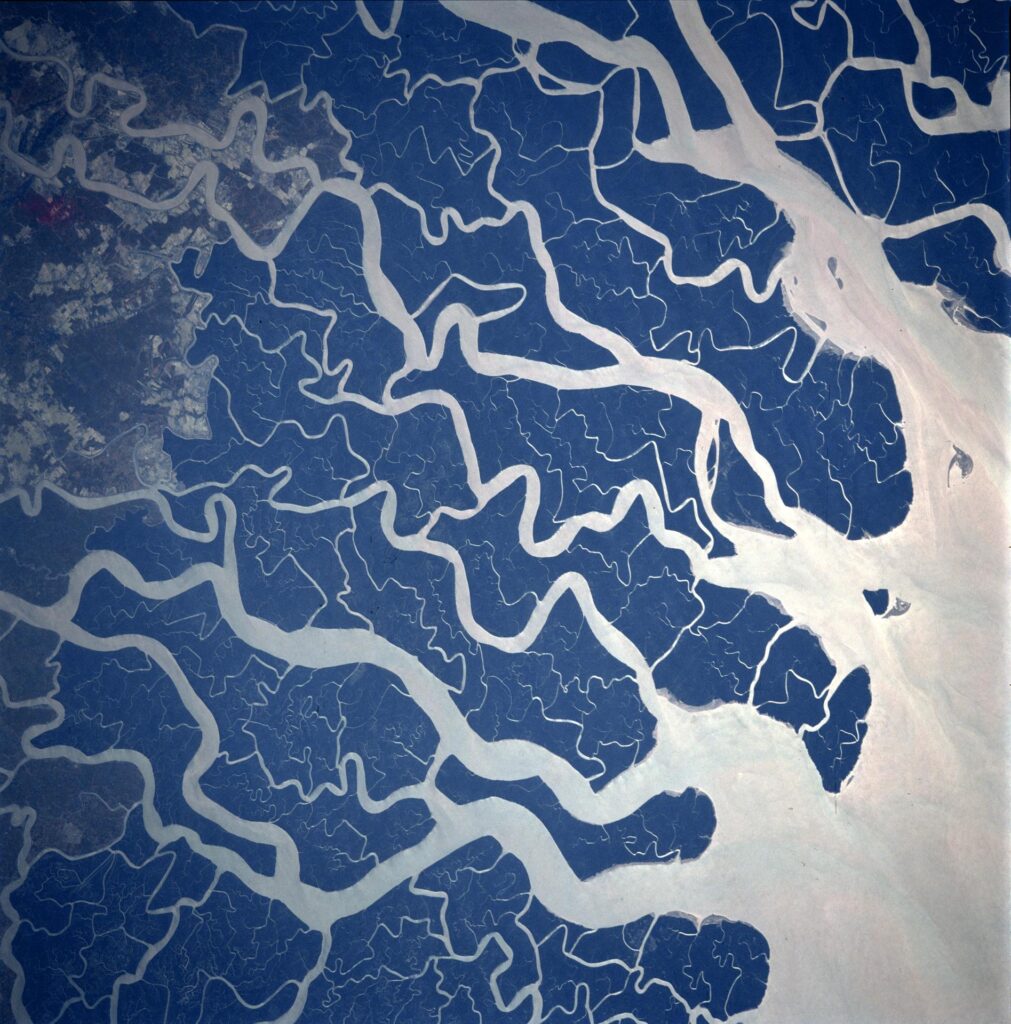 'ONE BILLION STREAMS FOR R.U.T.H'
A billion streams! I have an image of a river that suddenly floods and becomes many, many tributaries – a billion streams – on their way to the sea. Each one of these streams is one of you…
Thank you! Thank you so much for sending this song on such an impossibly astonishing journey. I'm blown away – Kate
---
Why is Kate's achievement such a big deal?
Reaching 1 billion streams with a song on Spotify really is a huge deal in 2023. So much so that only around 400 songs have managed this feat in Spotify's history, the VAST majority of them, as you might expect from a service launched in the last decade, are songs recorded in the 2010s and 2020s – only 10 other songs from the 1980s have achieved it.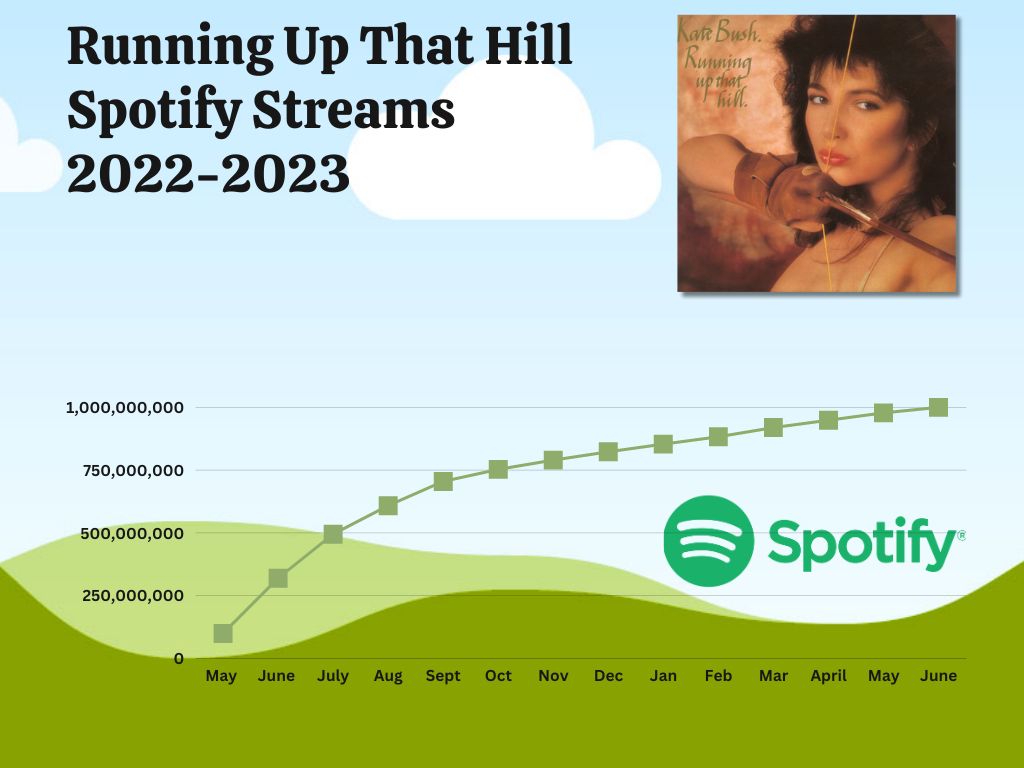 This is why Kate is in very rarified company in terms of music released by artists from the 1960s-2000s – Spotify's user base skews younger, and much more contemporary – the "Billions Club" is full of the likes of Ed Sheeran, The Weeknd, Post Malone, Justin Bieber, Billie Eilish, Drake, Ariana Grande and Dua Lipa. In fact other established, huge-selling acts from previous decades like Madonna, Whitney Houston, U2, The Rolling Stones, Elvis Presley, ABBA, Led Zeppelin, Pink Floyd and many more have yet to achieve the "billion" with a song as Kate has done. The Beatles only achieved their first billion streaming song last year with Here Comes The Sun.
This infographic nicely illustrates how few songs released in the 1970s and 1980s have hit the billion.
Spotify also has all 400+ songs included in their popular Billions Club playlist below and fittingly they have revamped the cover photo of the playlist this evening!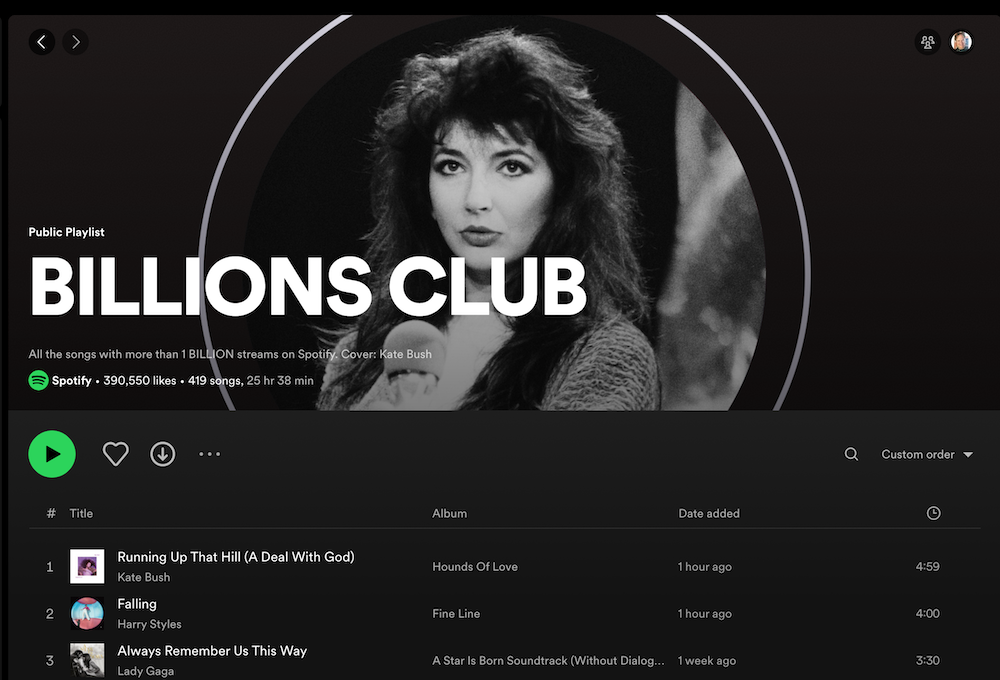 How did Running Up That Hill do it?
Since hitting just over 8 million streams a day at its peak last June, Kate's song has continued to reach almost 1 million streams daily ever since, and a year later this has now nudged her total streams past the 1 billion mark. Spotify is the world's largest music streaming platform with over 80 million songs and updated streaming numbers are made available each day. When the Netflix show Stranger Things first catapulted Kate's 1985 hit back into the charts in early June 2022, it represented an 8,700% increase globally in streams of the song on Spotify. The day Stranger Things launched on May 28th the song achieved a whopping 1 million+ streams – but that was just the tip of the iceberg! The following week saw the song rise to the number 1 position in the Spotify chart globally, with 57 million+ streams in one week alone and averaging over 8 million streams a day. Kate's achievement that week has put her firmly in the All Time Top 20 most streamed songs ever in a single week on Spotify, and only 13 other No.1 songs on Spotify have achieved more average weekly plays.
Kate would reach the weekly summit of the Spotify weekly chart twice more in July, AND a staggering 17 individual days on top of the daily global chart in June and July. By the end of September she had racked up over 600 million streams since May. Kate remained in the Spotify Top 100 well into December, even receiving a considerable boost again around Halloween when the song was clearly being used in all manner of Stranger Things themed parties. Running Up That Hill continues to achieve almost 1 million daily streams to this day.
Does she get an award or something?
Yes, Spotify will send Kate out a special plaque celebrating her 1 billion streams success. As the Spotify logo on the plaque takes the form of a silver bowl shape, several artists have celebrated their achievement on social media by posting photos of them eating out of it. Others, like the singer Shakira above, are happy to simply pose with the award and thank their fans etc.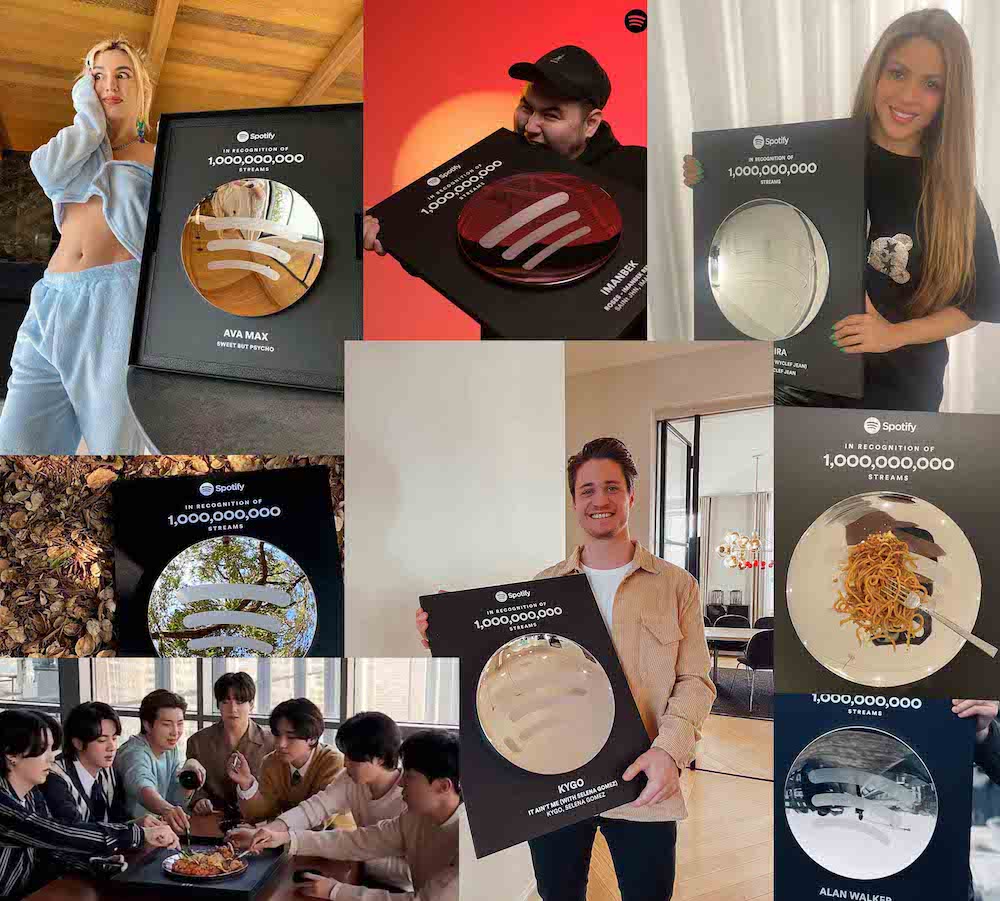 Was the Spotify success mirrored on the Billboard Global 200 chart?
Resoundingly, yes! Kate achieved a jaw-dropping chart run on this truly World chart-of-charts, which each week ranks the top songs globally and is based on digital sales and online streaming from over 200 territories worldwide. Kate had the biggest song in the entire world for three weeks!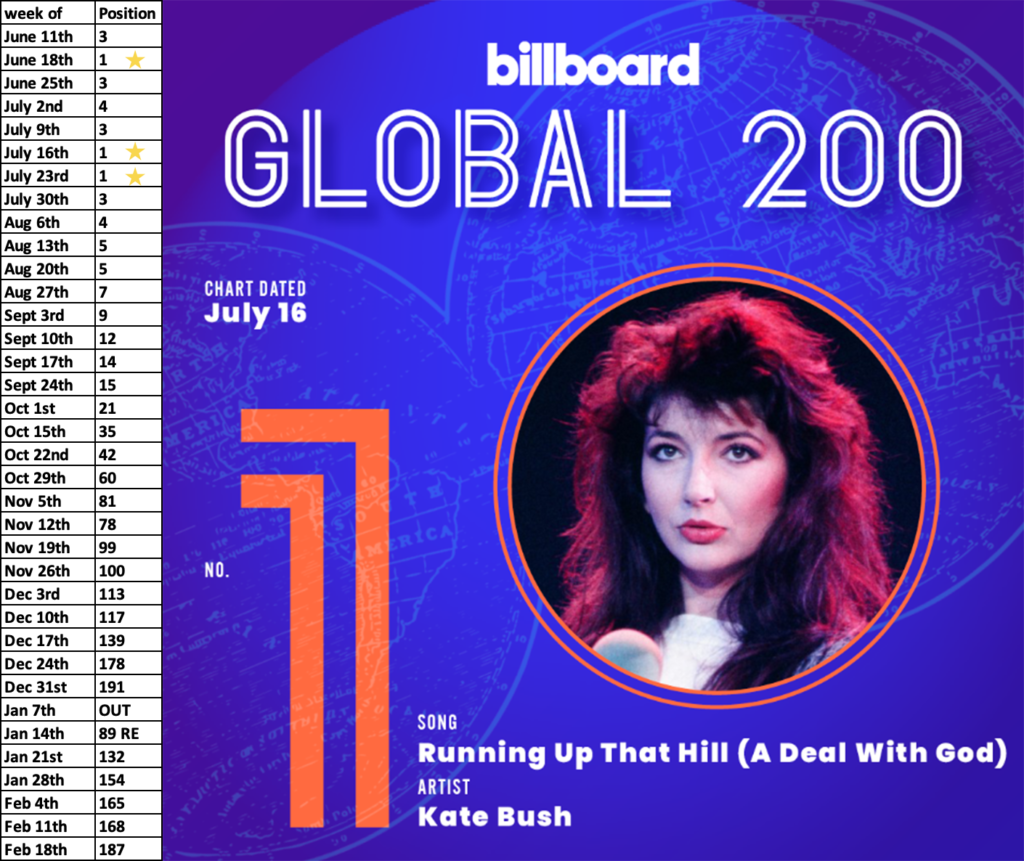 (Many thanks to Brian Cloughley for creating the graphic at the top of this feature!)