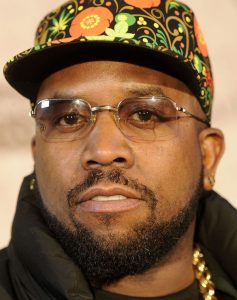 It has been well known that OutKast star Big Boi is a great Kate fan and never misses the opportunity to say how much he would like to work with her. It now seems they have made contact. In a tweet posted this week, he wrote: "Just Got off the Phone with Kate Bush !!!!!!!!!!!!!!!!", and then "Stay Tuned….. ooooowwww !"
The Music News sites are covering the story:
"Let's not jump the gun too much because, in the mysterious world of Kate Bush's creative genius, things move very slowly indeed. So the chances of us every hearing what she and Outkast's Big Boi concoct are still fairly remote. We just might not live that long. But from what we can gather from a couple of tweets, it does at least appear to be happening. Big Boi (real name Antwan André Patton) has been going on and on about wanting to work with Kate Bush for quite a while now. But, you know, who doesn't want to work with Kate Bush? Or for Kate Bush? Or pay their own money just to stand in her shadow? No one, that's who. But Catherine was known to be a fan of his work, so he had a slightly better chance than most." HolyMoly
"Outkast star Big Boi has revealed that he has spoken to Kate Bush about the possibility of recording a duet with her for his new album. Big Boi has long spoken about his admiration for the reclusive star … It is believed that Big Boi wants to record a duet with Bush for the follow up to his 2009 album 'Sir Luscious Left Foot: The Son of Chico Dusty', due later this year." Gigwise.
"A posting from Big Boi has led to speculation that he is set to work with Kate Bush. essentially, it's all about supply and demand. Decrease the supply, and logically demand will increase. Kate Bush almost never performs live, rarely releases new material and scarcely collaborates with other artists. Hell, the iconic English artist even turned down the Olympics, refusing to appear in the closing ceremony. However it seems that Kate Bush found Big Boi to be a rather more intriguing proposition. The rapper is an enormous fan of the singer, and has been attempting to make contact for some time." Clash Music
We certainly have time for a man who has his own line of socks.
| The Sun | NME | Exclaim | Digital Spy | Music Feeds |