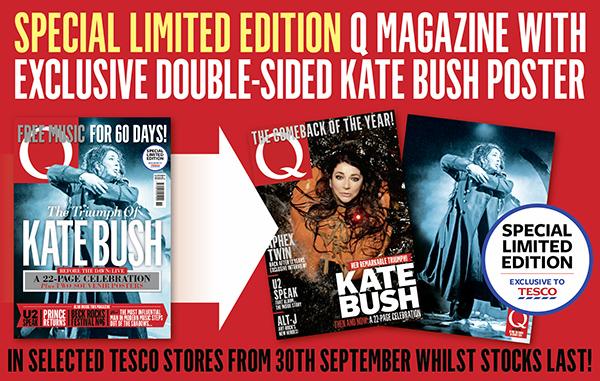 The new issue of Q Magazine, out on Tuesday 30th September, features three special Comebacks Of The Year covers – Kate Bush, Aphex Twin and U2. The tagline for the Kate cover reads: "Kate Bush: Her Remarkable Triumph!"
From the Q website: "From her beginnings in the 1970s to her recent live return, we trace the career of the artist in a 22-page celebration including new articles, vintage interviews, previously unseen pictures and much more." The feature concludes with a 4-page illustrated glowing review of the show, with writer Tom Doyle giving the show yet another 5 stars!
Copies of Q purchased at UK Tesco shops exclusively feature limited-edition double-sided Kate Bush poster (see below).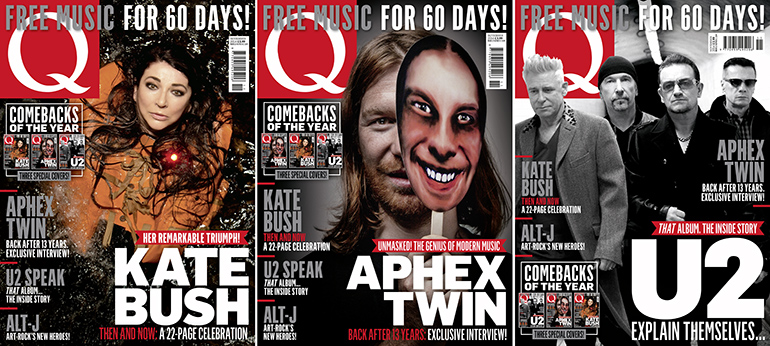 More on how to order Q Magazine at their website here.
Don't forget to vote for Kate in the Q Awards! More on how to vote here. 
UPDATE: Here's what the special Tesco-only cardboard wallet cover and exclusive double-sided poster look like. It shows Kate performing Under Ice on stage. The reverse of the poster is a reproduction of the regular Q Magazine lifejacket cover. The cardboard wallet contains the regular issue of Q magazine with the lifejacket cover along with this poster. Fans have been scouring Tesco shops around the UK looking for this limited edition!