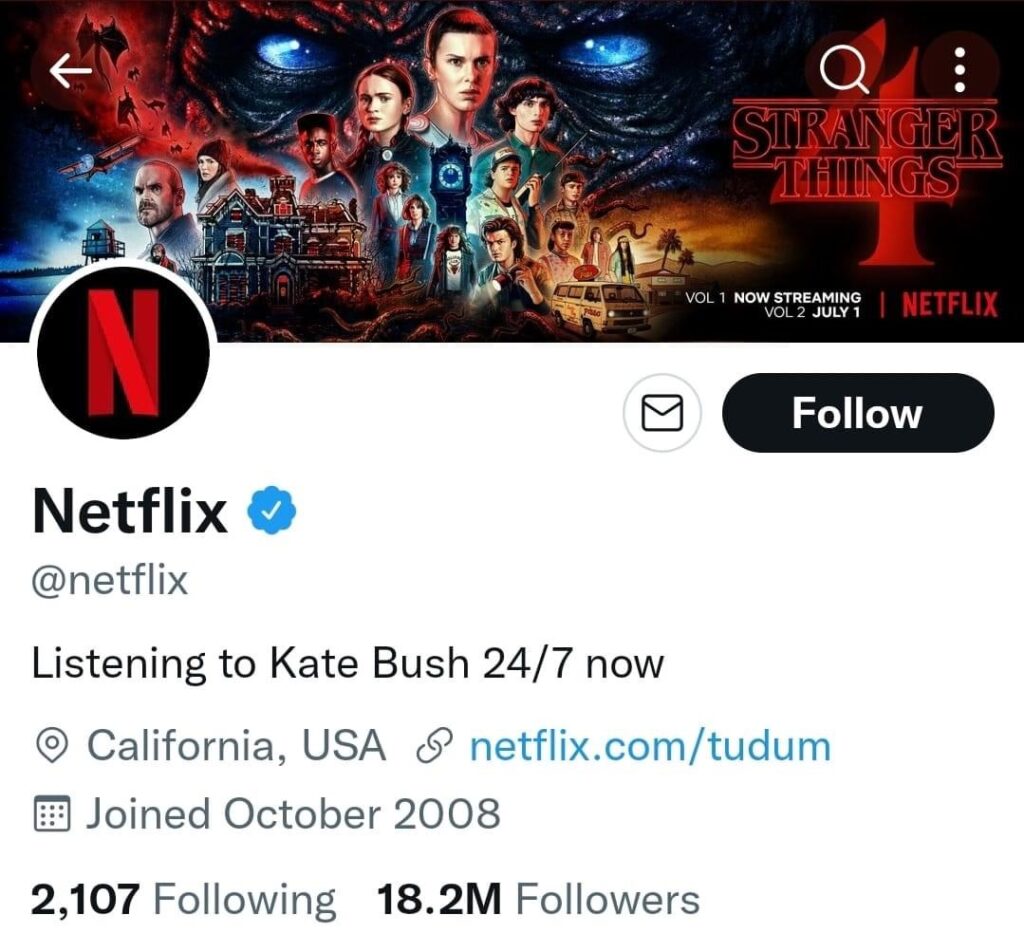 Yesterday we covered the astounding chart news for Running Up That Hill (A Deal With God) and we'll have more chart reports in the coming days! In other news, Netflix are clearly delighted with the monster success of the show and have also been celebrating Kate Bush in tweets (to their 18 million Twitter followers) and other social media posts. They tweeted: "Stranger Things 4 has been running up that hill since Friday, becoming the biggest premiere weekend ever for an English language TV show on Netflix with 286.79 million hours viewed globally! It also skyrocketed to the 001 spot in 83 countries — another premiere weekend record! And shout-out to everyone discovering/rediscovering Kate Bush through Stranger Things 4. As of May 30, Spotify streams of the legend's iconic song Running Up That Hill (A Deal with God) have increased more than 9,990% in the US!"
[ While we have you here, if you're liking what we do here at www.katebushnews.com consider throwing us a very small donation to help us support running costs here: https://ko-fi.com/katebushnews ]
As Kate has her biggest Australian hit single since Rocket Man also reached Number Two in 1991, the young Stranger Things cast are in Australia promoting the show, with Sadie Sink (who plays the show's Kate Bush fan, Max), Gaten Matarazzo and Priah Ferguson appearing on the Today show and they discuss Kate's success at the start of this clip:
Director Shawn Levy has discussed using Kate's music in Stranger Things with the Hollywood Reporter here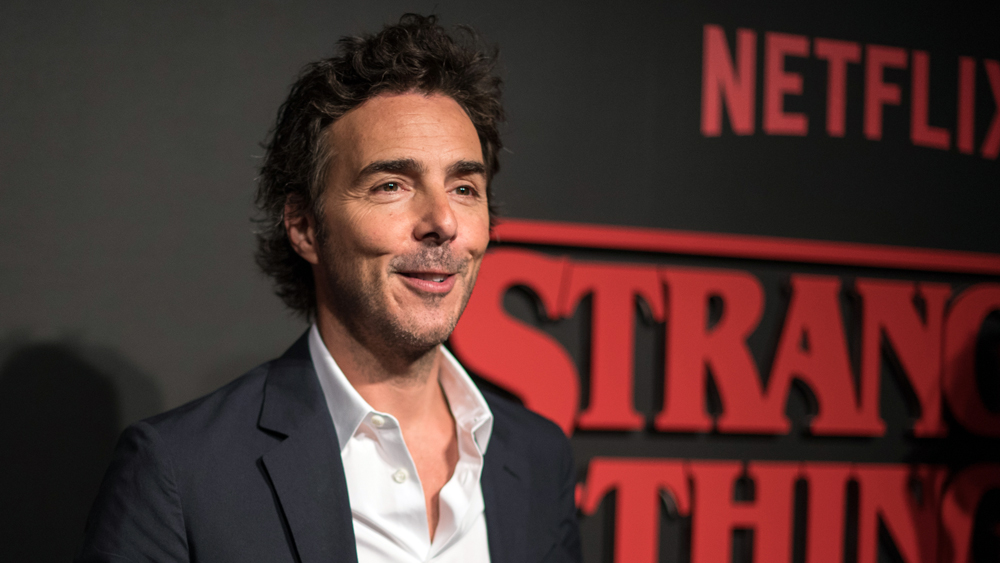 How did you decide on Kate Bush's "Running Up That Hill" being Max's anthem?
Sometimes the songs of Stranger Things are found in post-production, through trial and error. "Running Up That Hill" was in the script. It was always in the Duffers' minds. They were convinced that it would work and when I was editing "Dear Billy," I played around with an orchestral rearrangement of the Kate Bush song. If you rewatch the last five minutes of "Dear Billy," that's not just the Kate Bush song. It's the Kate Bush song with layers of strings and orchestra, because I wanted to take a phenomenal song that was known by so many and bump it up to a level of emotionality that would support and amplify the scene. It's just a musically amazing song because it's great as its original version, but it's also so compatible with rearrangement and orchestral augmentation, which is what we did at the end of "Dear Billy."
There have been Twitter conversations about Kate Bush gaining a generation of fans.
I know. It's just so thrilling. Obviously we couldn't do any of that without Kate's blessing, and we're so grateful we got it.
Netflix have just made the, now very famous, scene available from Episode 4, Dear Billy, which has led to Kate's global success with Running Up That Hill (A Deal With God). You can watch it on Youtube if you have no interest in watching the full series – obviously spoilers for the show's plot in the Youtube clip below!
An article in Variety Magazine has revealed more fascinating details of exactly how the Stranger Things' music supervisor and music clearance co-ordinator secured the use of Kate's song with Kate's personal involvement and approval. The show's music supervisor, Nora Felder, explains that executive producers Matt and Ross Duffer — better known as the Duffer brothers — tasked her with brainstorming a song that resonated with the intense, wide-ranging emotional experiences Max was undergoing.
Says Felder: "Consequently, each of the prospective song placements in the initial scripts was tagged with the placeholder, 'TBD Max song.' From there, I made an effort to internally align myself with what the Duffers felt were the most important elements needed, and my own intuitive grasp of Max's complex feelings." Felder soon landed on "Running Up That Hill." "It immediately struck me with its deep chords of the possible connection to Max's emotional struggles and took on more significance as Bush's song marinated in my conscious awareness."
The Duffers were elated with the suggestion. Felder's next challenge was to secure the song and get Bush's approval with the full knowledge that Bush, although open to ideas, does not typically approve many syncs. Says Felder: "I sat with my clearance coordinator, and laid out all the scripted scenes for song uses that we knew of at that point. Knowing the challenges, we proceeded to create elaborate scene descriptions that provided as much context as possible so that Kate and her camp would have a full understanding of the uses. … When we finished, we were on edge, but excited and hopeful."
The next step was tracking down the music publisher. Originally, that was EMI, now it was Sony. Wende Crowley, Sony Music Publishing's SVP of creative marketing, film and TV, got the request. "Nora Felder came to us pre-pandemic to discuss the idea of using it as Max's 'song' for this season. She wanted to make sure it was within the realm of possibility before she got the Duffer Brothers on board with the idea, since the song was going to be "such a focal point to Max's storyline," says Crowley. "Kate Bush is selective when it comes to licensing her music and because of that, we made sure to get script pages and footage for her to review so she could see exactly how the song would be used."
As it turns out, Bush was also a big fan of the show, and once the team could understand the intent and vision, Bush granted her permission. The deal took longer than normal to secure because of the uniqueness of the use and how many times it is played over this season in multiple episodes. There were indeed a few alternates, Felder acknowledges, but "Running Up That Hill" was the song.
What if it didn't clear? "I have a running expression I use when my showrunners feel strongly about a song select," says Felder. "Which is, 'I'm not going to sleep until I get it cleared.'" For me, as a music supervisor, I always feel an incredible responsibility to do everything in my power to 'get it done,' and this was no different." As Bush continues to trend on Twitter, and the song's video and audio streams — suggest a new generation is getting to know Bush's music, Felder offers that its newfound popularity is due to "Running Up That Hill" being a timeless track. Says Felder: "I believe that if it was written and recorded today, it would fit right in and not be considered a 'dated' sound in any way."
[ While we have you here, if you're liking what we do here at www.katebushnews.com consider throwing us a very small donation to help us support running costs here: https://ko-fi.com/katebushnews ]