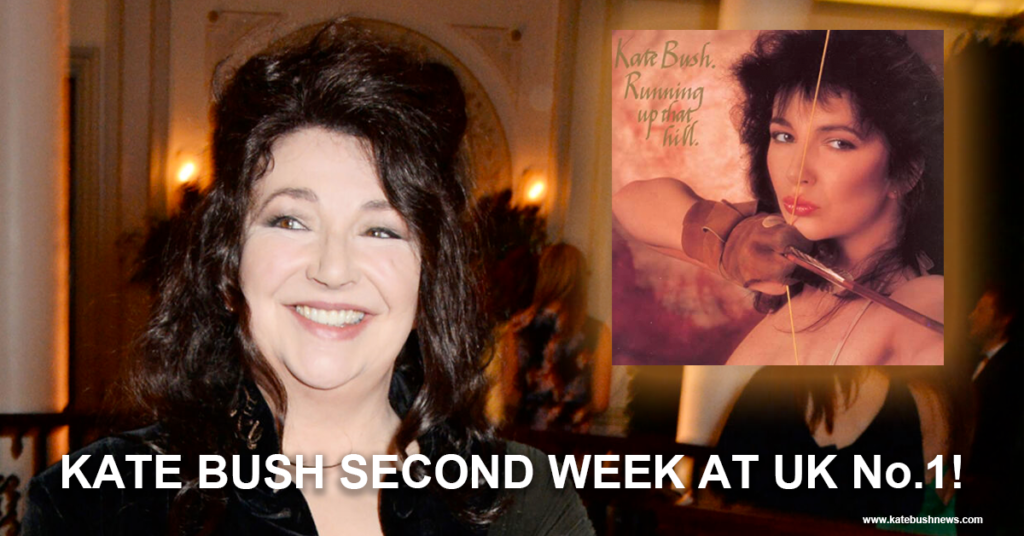 Kate's extraordinary run of chart success continues this weekend as she is STILL No.1 in the UK singles chart for the second week in a row with Running Up That Hill (A Deal With God) – we are starting to run out of superlatives here! In the week in which we heard Kate herself say "just extraordinary … quite shocking really, isn't it? I mean, the whole world's gone mad" – well, we will happily take the madness! Kate holds off the ubiquitous 'As it Was' by Harry Styles at no.2 and a fast rising chart hit 'Afraid To Feel' from LF System at No.3. And as we know, this is the third week running that Kate has outsold every other song on the chart, and the chart rule reset two weeks ago has rightfully sent her to the top spot for two weeks.
Today, Kate is also No. 1 in the Irish singles chart for the second week running…feeling all the love in her maternal homeland! Comhghairdeas mór, a Cháit! It's still all so hard to take in. Don't forget to listen to our epic Global Fan Celebration Kate Bush Fan podcast episode here!
Kate has written about her second week at the UK Number 1 AND her Irish Number 1 on her official site:
It's so exciting! RUTH is at No. 1 in the UK for the second week running and is now No. 1 in Ireland. My mother was Irish and would've really loved this.
I've received so many positive messages in response to the interview on Woman's Hour this week. I'm a great admirer of Emma Barnett who now presents the show with fellow host, Anita Rani. I really enjoyed Emma's uncompromising stance on Newsnight and I love to hear her challenging and championing so many different issues on Woman's Hour now. It seemed the perfect place for me to express my gratitude for the extraordinary attention the song is receiving. It took me a long time to build up the courage to listen to the interview. I was so touched, not just by Emma's lovely comments but also by Caitlin Moran's 'warm up', as she put it. Both Emma and Caitlin responded with such genuine affection to my work. It means a great deal. It really does.
I'd also like to thank everyone in the team around me, who are just as excited with the scale of the response to the song as I am. We've all worked together for many years and I feel very privileged to have people with such a huge range of talents and sensitivities who are involved in the many processes that are needed to get the work out there.
Just a week to go until the last two episodes of Stranger Things. I can't wait to see how the story is going to unfold. I think we'd better all hang on to our hats…
Thank you so much for your beautiful feedback and for your continued support for the song,
Kate