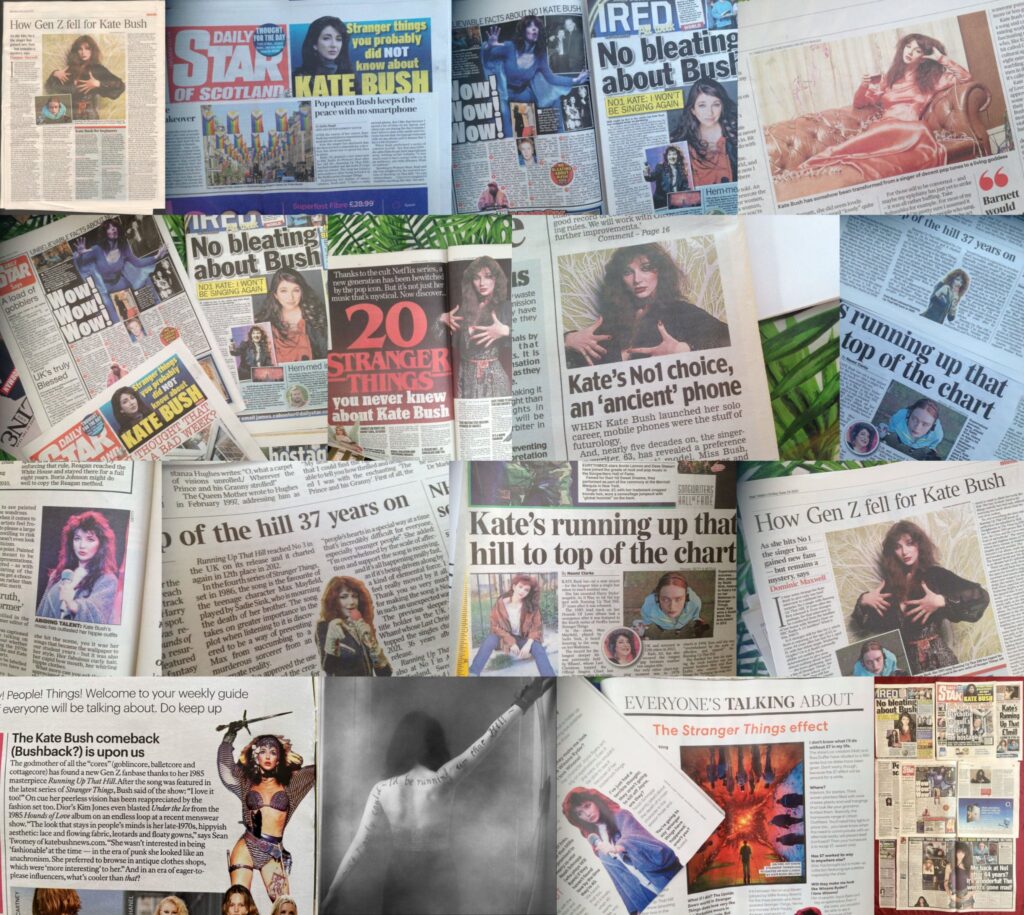 Our surreal early summer continues with Kate Bush EVERYWHERE. Let's take another look at what's happening with all things Running Up That Hill (A Deal With God) and Stranger Things. More of Kate's music will be used in the hit Netflix show this coming Friday, July 1st, and we can only guess what the impact of this will have considering what's been happening since Part 1 landed on May 27th. Thanks for all the lovely comments about the bumper Kate Bush Fan Podcast episode we put out last week to celebrate Kate's global chart success. It felt important to mark the moment that way, speaking to many fans about all of this unexpected worldwide activity. You can hear it here and also listen out for an extra discussion on all things Running Up That Hill this week from Bush Telegraph.
Stranger Things: While Part 1 of the current season of Stranger Things consisted of seven episodes, (you know, the ones that made Kate a global chart phenomenon) Part 2 is only two episodes long. However…those hoping to quickly binge it on Netflix (8am Friday morning GMT / midnight Thursday night PST) to find out how Kate's music features, note that episode 8, "Papa", runs for 1 hour 25 mins and the finale, episode 9, "The Piggyback", is a whopping 2 hours 19 minutes long. So, two movies, essentially! Running up that duration length…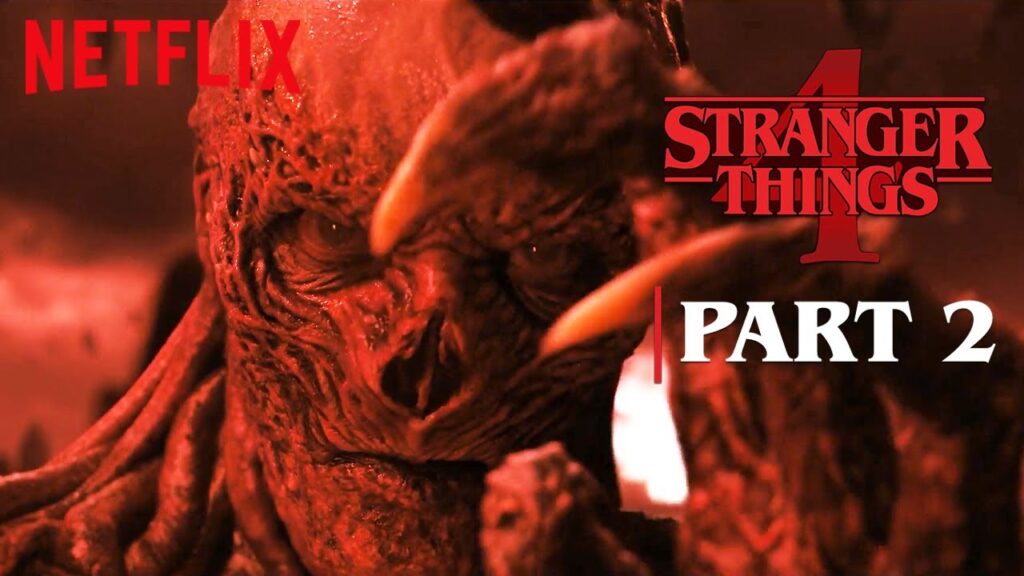 Following on from Kate's great interview on BBC Radio 4 last week, you can now hear a short excerpt of myself, Seán, and Mandy Watson (singer with Cloudbusting) chat about Kate's resurgence on BBC Radio 4 here on The Listening Project (it's 13 mins into the programme). Our full unedited hour-long discussion will be archived permanently in the British Library as part of this project to capture everyday people talking about all kinds of topics. Speaking of Cloudbusting, the band played a polished rendition of Running Up That Hill on the popular This Morning programme on ITV in the UK today and Mandy had a friendly chat with hosts Philip Schofield and Holly Willoughby afterwards about all the Kate madness. More about the band here.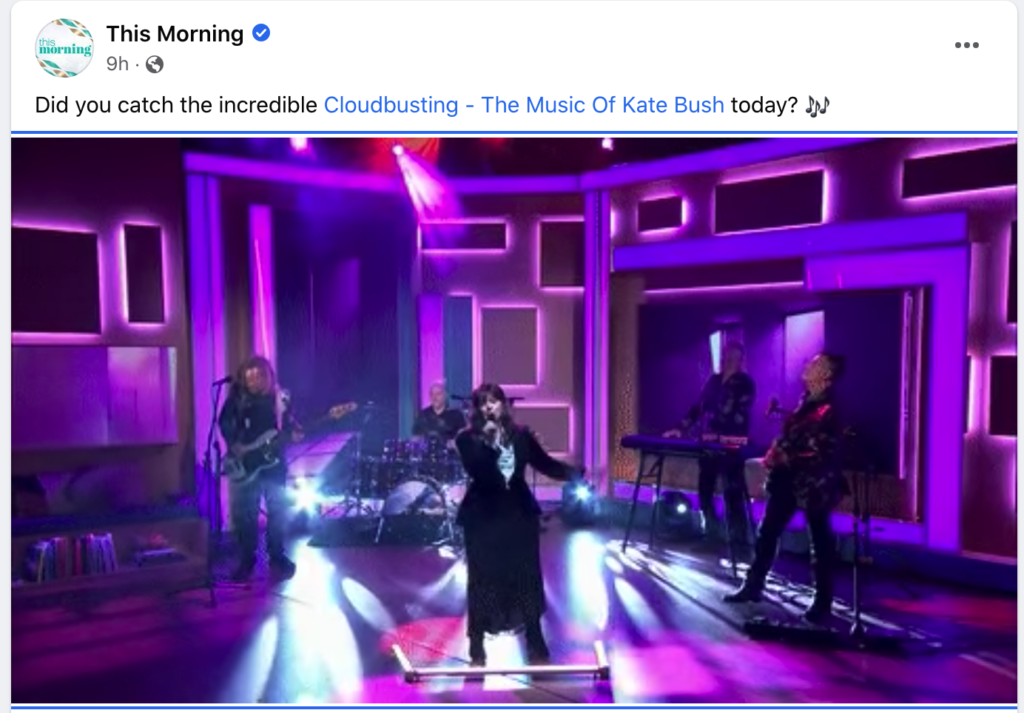 Some press articles of note: The Classic FM site posted a fascinating article that delves into the music theory on why Running Up That Hill is so amazing! Medium also discusses Kate's inspired chord sequence in the song here and proposes that she started a major trend among film composers. As Kate celebrates a second week at No.1 in Ireland, The Irish Examiner looks at examples of her Irish roots here. In a lovely opinion piece in the same paper, Clodagh Finn writes:
"…it has also given us this glorious statistic: "Kate Bush is currently the youngest (19 with 'Wuthering Heights') and oldest (63, with 'Running Up That Hill') female artist to have a UK number one with a self-written song." There is so much optimism in that single sentence. It tells the story of a supremely talented young woman whose creativity crashed through barriers in the male-dominated pop world of the 1980s, but it also shows that life goes on and, at 63, it is still possible to attract new audiences."
Global Charts: Running Up That Hill (A Deal With God) is currently no. 4 in the Billboard Global 200 (her highest placing was that staggering No.1 feat two weeks ago). Kate is looking good (but not certain) for a THIRD week at No.1 in the UK charts based on what we're seeing from her performance on the midweek charts, however Scottish DJ duo LF System have a rapidly rising viral hit on their hands at No.2. We're still in shock that we're captivated by the UK charts all over again! Exciting. Let's see what happens, once again, we find out where Kate has placed in her home country at about 5.30pm on Friday – BBC Radio 1 will let us know first. The Whole Story has climbed to No.17 in the UK album chart. In the US Kate is enjoying her 3rd week at No.1 in the Billboard Hot Alternative Songs chart.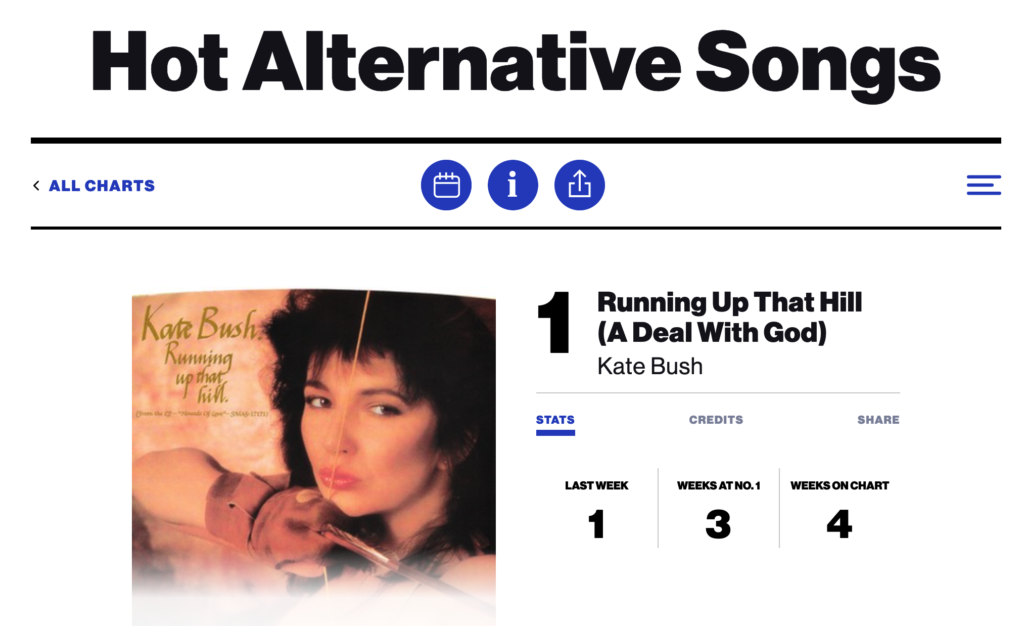 Official Charts: To recap, around the world on official charts, Kate is currently No. 1 in the UK, No. 1 in Ireland, No.2 in Australia (after two spectacular weeks on top), No.2 in New Zealand (also after having an astounding fortnight there at No.1), No. 10 in France (down from No.3), No. 4 in Germany, No. 9 in the USA (having reached 4 and then 5 in previous weeks), No.7 in Canada (down from No.2 last week as no less than FIVE new songs from Drake's new album storm the Canadian Top 10), No.3 in Sweden (down from No.1), No. 2 in Switzerland (down from No.1), No.5 in Austria (down one from No.4).
iTunes: As I write Running Up That Hill (A Deal With God) is back at No.1 in the US iTunes charts, a position she has enjoyed and maintained many times over the past few weeks. She is No.5 on iTunes worldwide currently, No.2 in the UK, No. 1 in Australia, No.1 in Canada, No. 6 in Brazil, No.2 in France, No.9 in Germany, No.7 in Ireland, No.14 in Mexico, No.1 in New Zealand and No.9 in Switzerland.
Spotify: Kate is currently the #42 most listened to artist in the world on Spotify with 40,636,714 monthly listeners! In a Top 50 dominated by the likes of Ed Sheeran, Justin Bieber, Drake, The Weeknd, Taylor Swift, Dua Lipa and Post Malone, Kate has surpassed Queen at No.43, making her the current most streamed artist who started their music career in the 20th century. Unreal. Running Up That Hill (A Deal With God) continues it's astonishing performance on the world's largest streaming music platform. After over 4 weeks and 180 million+ streams it is No.3 on the weekly Top Songs Global chart AND also No.3 on the Daily Global Chart as I write this today. In national weekly charts she is No.1 in the UK, No.2 in Australia, Belgium, Ireland, New Zealand, Czech Republic, South Africa, Israel and Luxembourg, No.3 in Switzerland, Lithuania, Latvia, No.4 in France, Austria, United Arab, Emirates, No.5 in the USA, Germany, No.6 in Canada, Sweden and No.7 in Belgium. Dig deeper and you'll find that Kate is No.31 in Pakistan, No.49 in Peru, No.34 in the Philippines…it goes on and on – check it all out here.
TikTok: There are now 1.93 million videos on this app featuring Running Up That Hill (A Deal With God). We'll let that sink in for a while…
Youtube: Running Up That Hill is now by FAR the most viewed Kate video on the site with over 80 million views, and at this rate it is estimated that it could hit 100 million views by the end of July.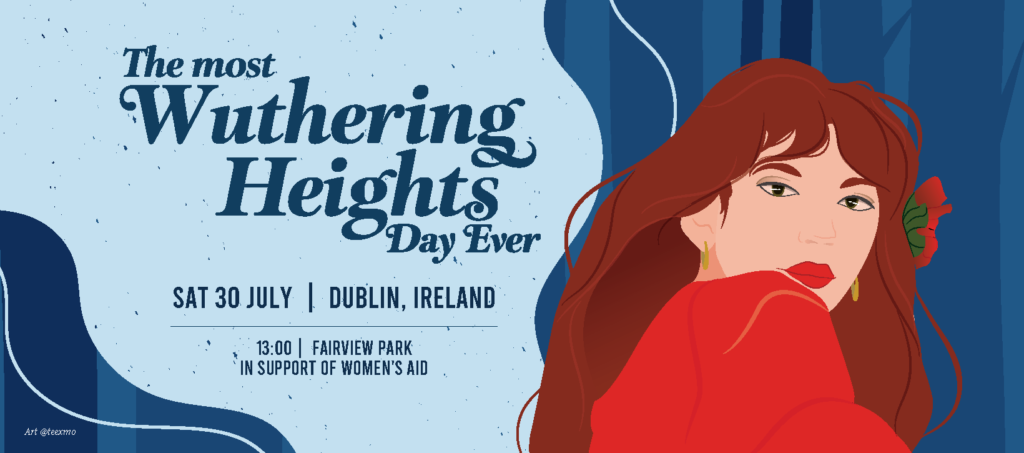 And finally, as we slowly try to drag ourselves out of the pandemic, the Most Wuthering Heights Day Ever events will be happening after a couple of years away and the Dublin, Ireland organisers have announced their event for Kate's birthday, Saturday July 30th in Fairview Park. Get your red dresses and tights ready! A lot of fun, always.