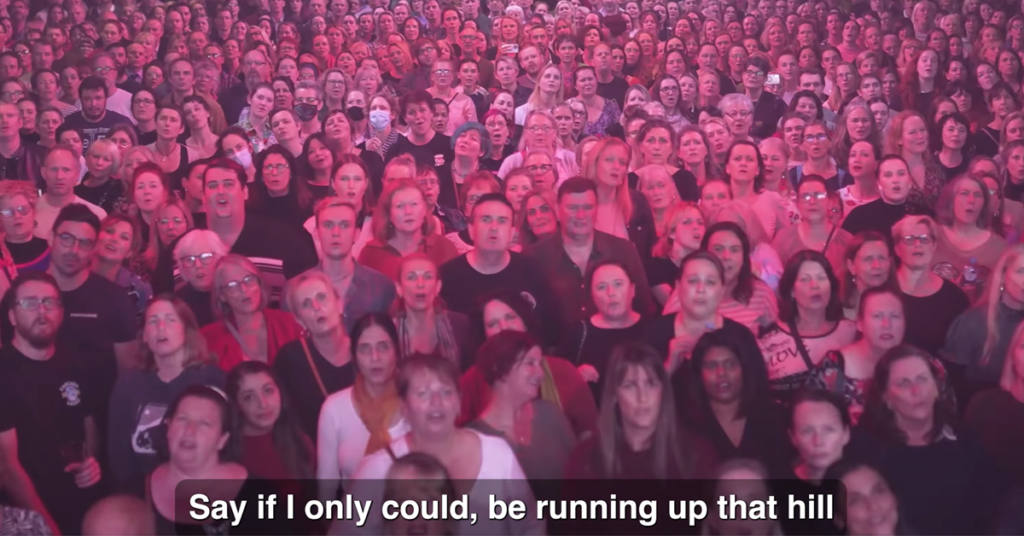 Well, it's a fantastic, uplifting, moment captured on video that's had almost 100,000 views on Facebook and it's probably about to have a lot more. Brisbane Pub Choir, in Australia, have caught Kate's attention! As they describe it themselves: "What happens when 1600 strangers have a few drinks, then learn to sing Running Up That Hill in three-part harmony? Turn up the volume and find out! Singing is for EVERYBODY! Thank you to Kate Bush for writing this timeless tune and for letting Pub Choir sing it. We hope we did you proud. Feel like having a sing with us? Join us at the pub some time!"
Kate has just written her response directly to them:
Dear Brisbane Pub Choir,
I've been so busy that I've only just had the chance to watch you all singing RUTH. It's utterly, utterly wonderful! I love it so much! Thank you everyone. You sing it really beautifully. I'm incredibly touched by your warmth and all your smiling faces. Thank you!
With lots of love,
Kate
The choir organisers were quick to express their delight on their Facebook page:
KATE BUSH!!!!!!!!!!!!!!!!!!!!!!!!!
Cancel all your plans. Quit your job. Throw all your books in the bin. Just sit down a minute and get a load of this. Life as we know it is over, and this email is all that remains.
We really did that, Brisbane.
According to a report in The Brisbane Times choir maestro Astrid Jorgensen was about to go for a run on Thursday morning, "up that hill" as it happens, when she checked her email on her phone.
"There it was. A personal message from the zeitgeist-defining Bush. "I ran home pretty fast," Jorgensen said. "When we sent off the request for the song, the response that we got back from the publishers was pretty much along the lines of 'have a backup plan, because this is probably going to be a 'no' because she doesn't approve requests very often for the use of her music'," she said.
"Even getting the song felt like a massive deal, and I told the crowd that on the night. "I think everyone felt like that was really special for us, but yeah, this is obviously a pretty big icing on the cake."
A brilliantly erratic chord structure and a chorus that comes out of nowhere makes Running Up That Hill a difficult song to master in 90 minutes, but that was exactly what the Brisbane crowd managed. "It is a really complex song and I think that's why her music has been so interesting for so long," Jorgensen said. "It's not everyone's cup of tea at all times, but it's complex, it's never boring."
The song's distinctive synth riff was replicated by a string section, courtesy of the Queensland chamber orchestra, Camerata. "The song itself is about a total breakdown of communication in a relationship and begging God to change places with the person so you can understand each other better, so I felt like that is a fairly big, heavy message," Jorgensen said. "Strings are kind of similar to human voices in a spooky way, so it felt like a nice little extension of the choir."