In November Kate's album catalogue is being reissued on regular black vinyl and CD branded with the new Fish People logo labels, and additionally, last week, several independent record shops in the UK, Ireland and the USA (and possibly elsewhere) began taking pre-orders for gorgeous new Fish People indie record store colour vinyl editions of Kate's albums. These are due for release on November 20th and are part of her first catalogue refresh since a new global audience has discovered her music in recent years on TikTok and via the massive global success of Running Up That Hill in 2022.
While many fans will be content to hold on to the Remastered vinyl they may have purchased in 2018 (these reissues are the same remasters) this gives new fans the opportunity to pick up Kate's vinyl catalogue afresh, as well as giving collectors what they've always wanted (but never thought they'd get!) – colour vinyl Kate Bush editions just like those issued in recent years for Bowie, ABBA, Joni Mitchell, Queen, Kylie Minogue, Fleetwood Mac and many more artists. Rather than having any interest in a "cash-in" greatest hits album package in the wake of her global success last year, Kate continues to care about the presentation of her album catalogue and it's availability in "bricks and mortar" stores in particular – cherished businesses that "indie" releases like this hugely support.
A new comment by Kate has been quoted by the music press in relation to the vinyl reissues: "It's very exciting to see people appreciating the physical presence of an album released on vinyl. It's how it's always been for me, especially when I was a teenager. The whole buzz of the record store was part of the experience. Buying an album was an event."
Each indie edition (sold exclusively through independent record stores, hence the name) is pressed on 180g coloured vinyl with paper obi strips which match the album artwork – something we've usually only seen with Japanese vinyl pressings from years gone by, a very nice touch. According to the Super Deluxe Edition site, "these coloured vinyl pressings are described as "unlimited editions" and will be in production constantly. The only thing that will change is the pressing date on the obis."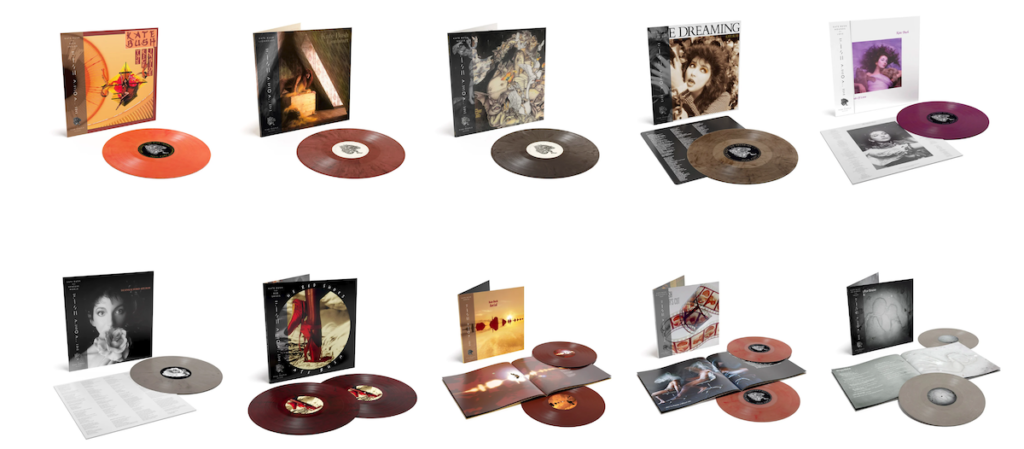 As we know, back in February of this year Kate announced that the distribution of her catalogue was changing over to The State51 Conspiracy and her official Fish People site and social media channels were updated with a brand new logo design and a range of new Fish People merch was made available. The vinyl records have been pressed at the Record Industry plant in the Netherlands with new lacquers for the vinyl cut by Bernie Grundman – which should bode well for the sound quality, Bernie is overseeing the recent remastering of Joni Mitchell's album catalogue. As we know Kate's remasters were carried out by James Guthrie.
Outside the US her first three albums will continue to be distributed by Warner Music Group. The indie edition colour vinyl of The Kick Inside, Lionheart and Never For Ever are therefore only available on import outside the US – so ask your local independent record store about ordering them in or pre-order direct from a US indie store online. Rough Trade, for example, have them listed along with all the others.