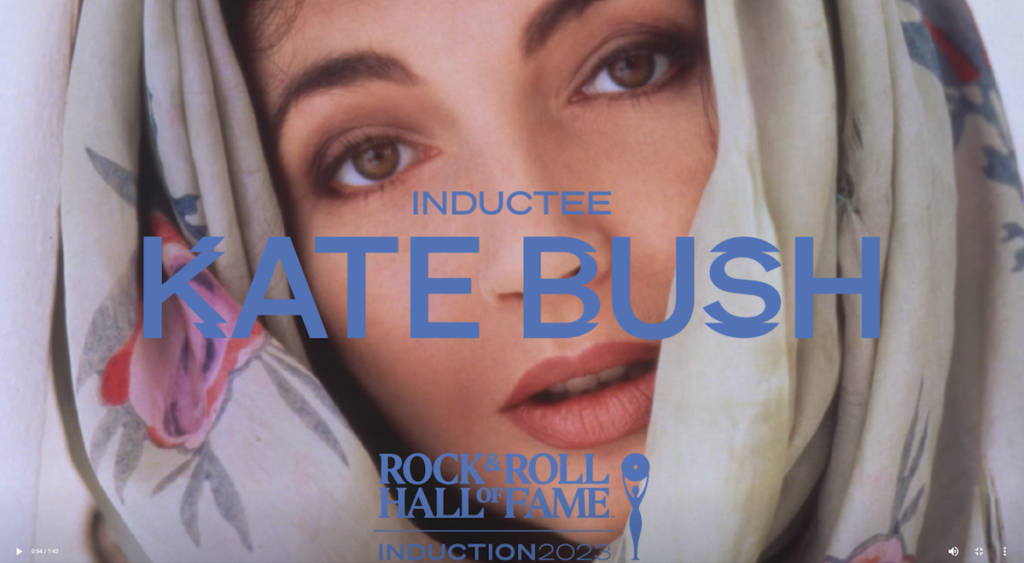 Here's a round up of what we know so far about Kate's induction into the Rock & Roll Hall of Fame, which takes place on Friday, November 3rd.
What is it? Since 1986, over 300 performers have been inducted into the Rock & Roll Hall of Fame, a museum located in Cleveland, Ohio in the USA. The organisation describes being inducted as "Music's Highest Honour" but it is fair to say it's more celebrated in the USA where the induction ceremony takes place each year.
How did Kate get inducted? Eligible for nomination since 2004 (nominated artists must be at least 25 years into their careers), Kate had previously been nominated in 2018, 2021 and 2022 before finally being inducted this year, her massive US (and global) chart success last year perhaps making this inevitable.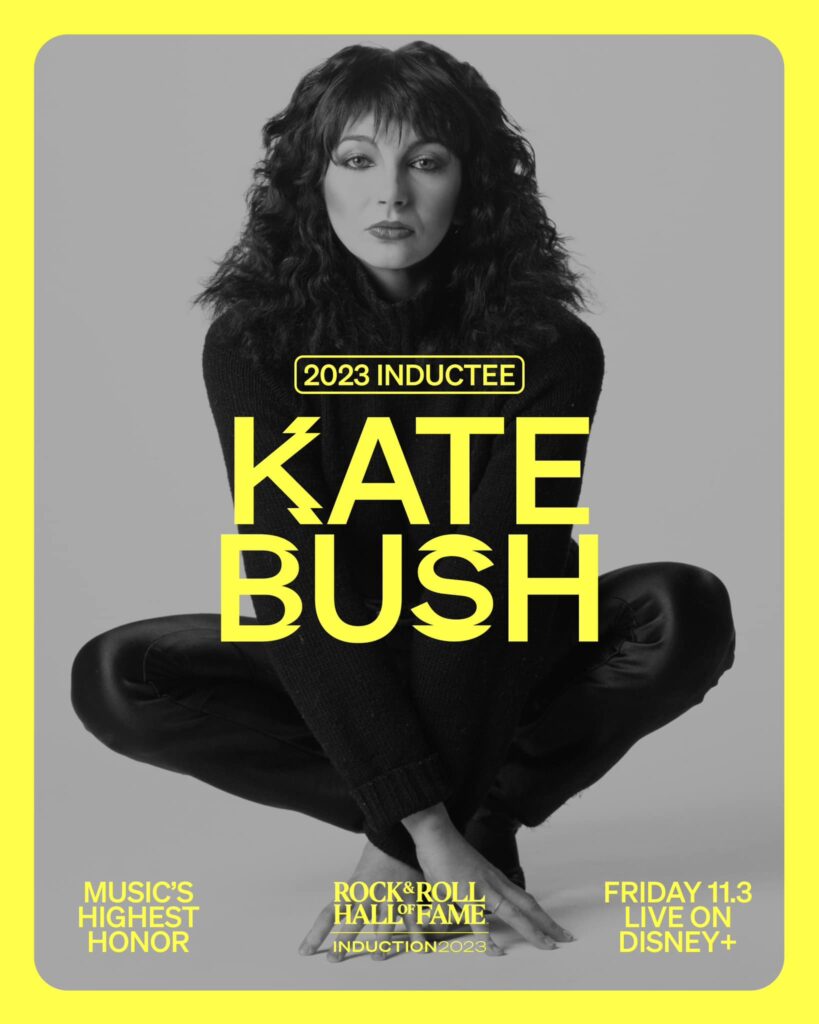 When is the induction ceremony and can we watch it outside the USA? The ceremony will be televised LIVE on the Disney+ streaming channel at 8pm Eastern Time (USA) / 12:00 Midnight GMT (UK/Ireland) on Friday 3rd November. It takes place at the Barclays Center, Brooklyn, NY and tickets to attend the ceremony itself are here.
Who else is being inducted this year? Also being inducted this year are Willie Nelson, Rage Against the Machine, Missy Elliott, Sheryl Crow, George Michael and the Spinners. There are six more inductees beyond that list, with the distinction of being selected by a select Hall of Fame committee to join the seven performers who were voted in via general balloting. These are singer Chaka Khan, instrumentalist-producer Al Kooper and lyricist Bernie Taupin, all in the "musical excellence" category; pioneering rock guitarist Link Wray and hip-hop originator DJ Kool Herc in the "musical influence" division; and "Soul Train" TV host Don Cornelius as the recipient of the annual Ahmet Ertegun Award.

What have the Rock & Roll Hall of Fame been saying about Kate? On their site they have a page about Kate in which they describe her as "a spellbinding visionary, the singer, songwriter, multi-instrumentalist, and producer Kate Bush created a unique space in rock. She used lush soundscapes, radical experimentation, literary themes, sampling, and theatricality to captivate audiences and inspire countless musicians." They have also put together the "Inductee Insights" video below:
Will Kate be attending the ceremony? We have absolutely no idea whether Kate intends to show up at the ceremony in person, or make any video or audio contribution to the proceedings. Kate last attended an awards event in 2014. Hall of Fame president and chief executive Joel Peresman told Rolling Stone that he hoped Kate would perform at the induction ceremony: "We open that door. It's up to her." We know of several fans who have purchased tickets and are travelling to NY, just in case – everything crossed guys! If she did perform it would be her first live performance since her 2014 London concert residency, Before the Dawn, and her first television performance in almost 29 years.
We do know that the award/induction is traditionally presented by another artist who has been influenced by the inductee and we note that vocal Kate Bush fan, singer St Vincent (Annie Clark), will be performing on the night and has teased on social media that she is inducting a performer. Kate's friend and musical idol Elton John will also perform on the night, though possibly to honour his writing partner, Bernie Taupin. Stevie Nicks, Queen Latifah and Sia will also be performing on the night among many others.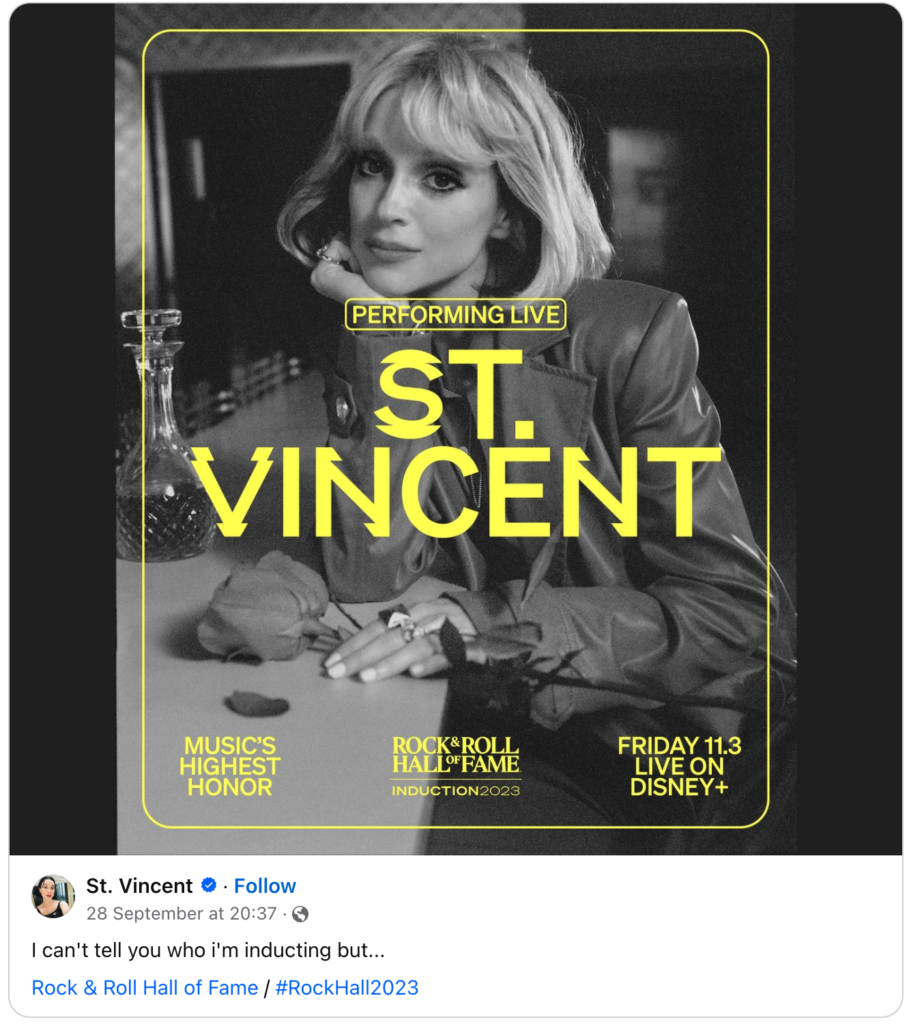 What has Kate said about being inducted to the Hall of Fame? Kate responded in May on her official site: "I have to admit I'm completely shocked at the news of being inducted into the Hall of Fame! It's something I just never thought would happen. Thank you so much to everyone who voted for me. It means a great deal that you would think of me. It's such a huge honour. Now as part of the initiation ceremony I get to find out about the secret handshake… there is one, right? – Kate"
Anything else? Kate's name is featured on various Rock & Roll Hall of Fame Class of 2023 memorabilia on sale here. Performers are listed alphabetically so it's nice to see Kate's name on top!